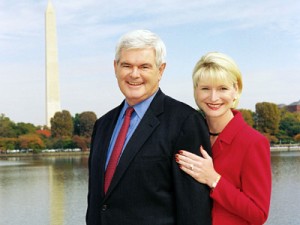 This week, The New York Times delved into the life – and the potential future role – of Callista Gingrich, wife to Newt Gingrich and president of Gingrich Productions. The article immediately mentions the fact that Mr. and Mrs. Gingrich began dating while he was still married to his second wife, Marianne Ginther. The paper does not mince words when it comes to describing the impact the affair had on Gingrich's political career:
Still in her 20s when they met, Ms. Bisek had been raised in a town of 1,500, the only child of a meat packer and a secretary. A churchgoing Roman Catholic, she had attended a Lutheran college where she practiced piano five hours a day. "Is this the wisest course for you to be taking?" Karen Olson, her best friend, recalled asking.

Today, Ms. Bisek is Mrs. Gingrich, married for 11 years, but perhaps best remembered for the six-year affair that contributed to her husband's political downfall. His critics cast Mr. Gingrich, the former House speaker, as a hypocrite who sought to impeach a president over infidelity while engaging in it himself with Ms. Bisek, who was a Congressional aide.
Nonetheless, Gingrich has made his wife an integral and highly visible component of his career thusfar, despite what the paper describes as some reticence, on her part, to place herself before a refreshed wave of public scrutiny that campaigning alongside her husband would inevitably bring.
While neither Gingrich agreed to be interviewed for the NYT article, the couple's friends had quite a lot to say. To wit:
"They would say they wished they had met in a different time in their lives under different circumstances," said Jackie Cottrell, a friend who worked with Mrs. Gingrich as a staff member on Capitol Hill. "But it's important to note that they brought their family together in a loving way."
…And:
Still, they worry aloud that her "physical presence," in the words of Matt Gunderson, a childhood friend, makes her seem distant or stuffy. They see a woman who, caricatured as a "blond bombshell" in the press years ago, guards her public image.
…Not to mention:
The same friends who tried to talk her out of out of dating him more than a decade ago have concluded that she knew what she was doing, and are banking that voters will forgive and forget. Ms. Olson summed up their history in what might just become a campaign catchphrase.

"They're a great couple," she said, "that had a nontraditional start."
This "translucency" when discussing the couple's affair – masked as the details of their relationship are by these neat little euphemisms – is very likely the best way to acknowledge that, yes, the two made egregious and hurtful mistakes, especially in light of the GOP's traditional stance as the "family values" party, but they, nonetheless, strive to present a unified front. It'll be interesting to see if and when Callista herself chooses to speak about the affair and, if not, what narrative she and her husband's team will choose to present her to the public as a possible future First Lady.
h/t NYT
Have a tip we should know? tips@mediaite.com