Sally Yates is Testifying Before the Senate Over the Russia Probe Today — But Who is She?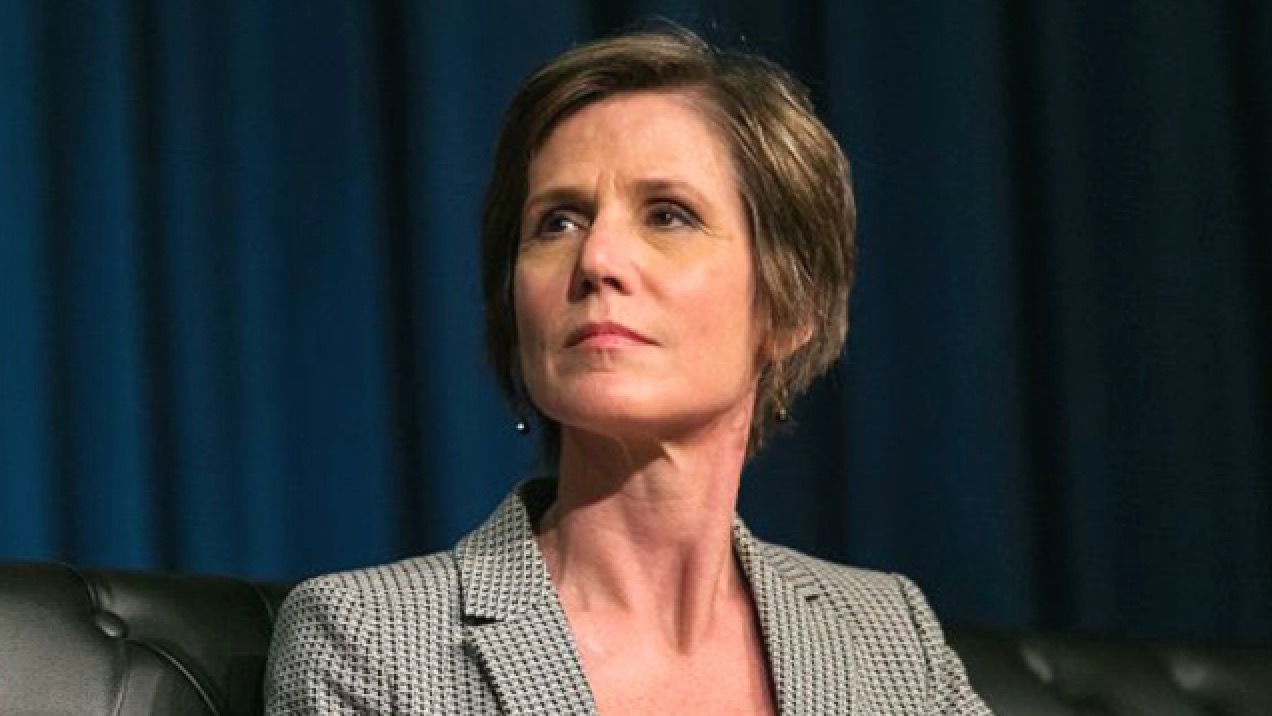 Sally Yates is set to testify before a Senate Judiciary subcommittee this afternoon over discussions she had with the White House regarding former National Security Adviser Michael Flynn.
Yates was nominated deputy attorney general by former President Barack Obama in 2015, serving under Attorney General Loretta Lynch. A holdover from that administration, Yates served as acting attorney general from President Donald Trump's inauguration, while a replacement was sought for Lynch.
A long-time veteran of the Justice Department, serving under both Democratic and Republican administrations, Yates was thrust into the spotlight after she refused to legally defend the president's travel ban executive orders in court. She was swiftly fired by the Trump administration, and replaced by Dana Boente.
Yates has remained in the news since, over her involvement in the probe into Russian interference in the 2016 election.
Those paying attention may recall that she was originally supposed to testify before the House Intelligence Committee regarding Flynn's connection with Russian Ambassador Sergey Kislyak in March. Rep. Devin Nunes (R-CA) mysteriously cancelled the meeting. Flynn was asked to resign in February after he mischaracterized his conversations with Kislyak to Vice President Mike Pence.
Following reports that the White House put pressure on Nunes to cancel the hearing to prevent Yates from testifying, and a scrutinized and unorthodox meeting between Nunes and officials at the White House, the congressman recused himself from the investigation.
Now, Yates will have a chance to testify before the Senate Judiciary Committee' Crime and Terrorism subcommittee. She will discuss a January conversation she had with White House counsel Donald McGahn regarding Flynn. According to The Washington Post, Yates will testify that she went to the White House after the inauguration to warn officials that their statements about Flynn's discussions with Kislyak were incorrect.
She also warned them that "those contradictions could expose Flynn or others to potential manipulation by the Russians."
From The Washington Post:
Yates's testimony Monday is expected to contradict public statements made by White House press secretary Sean Spicer and White House Chief of Staff Reince Priebus, who described the Yates-McGahn meeting as less of a warning and more of a "heads up'' about an issue involving Flynn.
The Post notes that sources say White House statements understate the gravity of Yates' comments:
People familiar with the matter say both statements understate the seriousness of what Yates told McGahn — that she went to the White House to warn them that Flynn could be compromised — or blackmailed — by the Russians at some point if they threatened to reveal the true nature of his conversations with the ambassador.
Trump took to Twitter Monday morning to comment on the hearing, noting Flynn was given security clearance by the Obama administration:
General Flynn was given the highest security clearance by the Obama Administration – but the Fake News seldom likes talking about that.

— Donald J. Trump (@realDonaldTrump) May 8, 2017
Flynn was director of the Defense Intelligence Agency from 2012 to 2014, until he was reportedly fired by the Obama administration.
Trump also implied Yates leaked classified information to the press in a subsequent tweet:
Ask Sally Yates, under oath, if she knows how classified information got into the newspapers soon after she explained it to W.H. Council.

— Donald J. Trump (@realDonaldTrump) May 8, 2017
Former Director of National Intelligence James Clapper will also testify before the Senate Monday. The festivities kick off at 2:30 p.m. ET.
Have a tip we should know? tips@mediaite.com
Aidan McLaughlin - Editor in Chief