Noted Golf Writer: Eric Trump Told Me Trump Golf Courses Have Russian Funding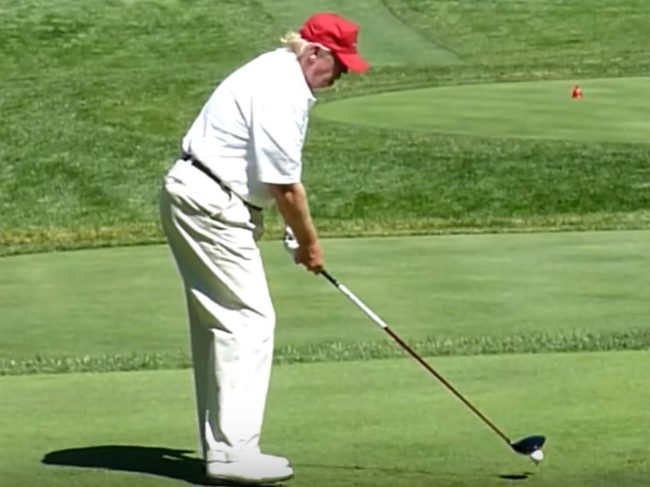 As Congress continues its probe into Russian interference in the 2016 election, one noted golf writer claims that a member of the Trump family admitted to the clan's financial ties with Russia.
In an interview with NPR's Only A Game longtime golf scribe James Dodson claims that during a round with the Trumps in 2014, Eric Trump told him about the family's reliance on Russian funding for its golf construction business.
Here's Dodson's account:
So when I got in the cart with Eric, as we were setting off, I said, "Eric, who's funding? I know no banks — because of the recession, the Great Recession — have touched a golf course. You know, no one's funding any kind of golf construction. It's dead in the water the last four or five years." And this is what he said. He said, "Well, we don't rely on American banks. We have all the funding we need out of Russia." I said, "Really?" And he said, "Oh, yeah. We've got some guys that really, really love golf, and they're really invested in our programs. We just go there all the time." Now that was three years ago, so it was pretty interesting.
In a follow-up interview with the New York Daily News, Dodson — who co-wrote Arnold Palmer's memoirs — added, "It was a casual remark, it was just two guys golfing and talking. I'm sure he didn't think anything about it. Why would he think anything about it?"
In a Tweet, Eric Trump furiously denied Dodson's claims.
This story is completely fabricated and just another example of why there is such a deep distrust of the media in our country. #FakeNews https://t.co/YZMUnniw7Z

— Eric Trump (@EricTrump) May 8, 2017
Additionally, Eric Trump told the New York Post "It's a recollection from some guy three years ago through a third person." He added, "We have zero ties to Russian investors."
This new claim comes as former deputy Attorney General Sally Yates is set to testify before a Senate Judiciary subcommittee on Monday afternoon as the Russia probe continues.
[image via screengrab]
——
Follow Joe DePaolo (@joe_depaolo) on Twitter
Have a tip we should know? tips@mediaite.com
Joe DePaolo - Senior Editor