There's a Kid In Australia Who Launched an Organization to Help Trump Win in America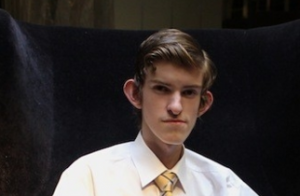 Today is the day that Vice blessed us with what might be one of the Vice-iest things ever: A profile of Edward Bourke, the 15-year-old Australian behind the Trump Triumph campaign.
Perhaps you're asking yourself, Why would a high-schooler down under care about the American presidential race or a guy who owns a bunch of hotels? Well, as it turns out, Bourke is just one of those kids who is into everything. Per Vice:
Ed was already heading up social campaigns devoted to his other pet passions: climate change awareness, lion preservation, and genealogy. Launching another seemed like the natural thing to do.
Like his preferred candidate, Bourke launched a website to back up his beliefs. Here it is. Its chief function appears to be to make simple assertions about the candidate's accomplishments. Scrolling down, you'll see the words "multiple best-selling books" alongside other stats, including the billionaire's supposed net worth, which Bourke has listed as $10,000,000,000. That doesn't match any records or reports, which makes sense given what a touchy subject his net worth is to Trump, who is the only source on record claiming the $10 billion figure. (Most reports put his worth at around $4 billion, but some go as high as $7 billion or $8 billion.)
Bourke's goal is education. Beyond the website — on which you can find inspirational Trump quotes and links to the mogul's social media accounts — he is invested in having conversations with his fellow students in the hope that they will go home and talk to their parents. As far as Trump's incendiary rhetoric goes, Bourke couldn't care less. He told his interviewer that Trump says intentional rude, blustery things because the American right likes "that sort of talk."
His support of Trump stems from his belief that by fixing the American economy, the American government will also fix Australia's. He is not only disinterested in the potential sovereignty of Australia, but he is against it.
Finally, here is a thought-provoking quote from the teen:
My homeroom teacher once sent me out of the class because I said Australia should never become a republic. I think the queen is the best head of state you could hope for.
Click over to Vice to read more about Bourke, his lack of interest in partying until he is a little older and more successful, and his intriguing genealogy.
[image via Vice/Julian Morgans]
For more from Lindsey, follow her on Twitter.
Have a tip we should know? tips@mediaite.com