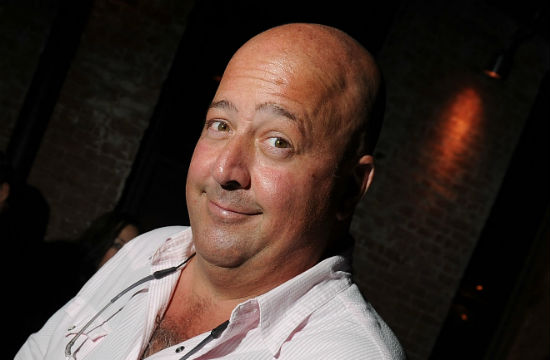 "This just in, THE NEELYS CAN'T COOK."
Thus kicks off (more or less) Andrew Zimmern and Molly Mogren's recap of last weekend's New York City Wine and Food Festival 2012 on this week's installment of his podcast Go Fork Yourself. They both attended Burger Bash, where Andrew was an official judge, and after weighing in on their favorites, were astounded by the sub-par burger that came from the station of Food Network couple Pat and Gina Neely.
And we quote Mr. Zimmern:
"I am telling you right now: the relationship between culinary fame, and the inability to cook or understand food? The greatest disparity there between those two elements is The Neelys. Their latest book is like a weddings book or something? When someone handed it to me, I thought it was a parody. Because it's him and his lovely wife — lovely people — standing around a table where there's hors d'oeuvres and a wedding cake or something. It's like, 'Celebrations!' And it's like, the last kind of food they know anything about. It's shocking…The most shocking thing to me is how little they have to do with cooking, writing, recipes, anything that they do. It's amazing. I'm blown away. Very very nice people, but oh god. Not a good burger."
Yikes! Molly just chalked it up to them forgetting their condiments! Related: does this mean Andrew Zimmern and Glenn Beck can finally agree on something? That makes us feel weird.
Zimmern also recapped the festival's roast of Anthony Bourdain. Verdict: Rachael Ray was class act of the evening, while Guy Fieri came off perhaps a tad angrier than he intended.
Plus, Molly gets How To Get Out Of A Limousine Like A Lady Lessons from AZ, and quizzes the Who's Who of the NYCWFF 2012 about which celebrity chef sex tape they'd secretly download. (Spoiler alert: Anne Burrell's answer of Daniel Boulud is not the most scandalous.)
You can listen to this week's Go Fork Yourself in its entirety here.
Have a tip we should know? tips@mediaite.com