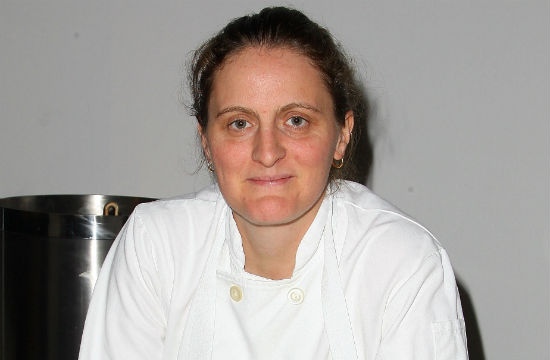 The heart-achingly humble April Bloomfield of The Breslin, John Dory and the Michelin-starred The Spotted Pig in New York is heading back to her native land for her yearly two-day residence with Fergus Henderson at his London resto St John. The collaborative pop-up sold out in three hours.
"It was reassuring to know that it sold out so fast," April gratefully told Bloomberg News. "I thought no one might come."
So how does Bloomfield feel about that whole woman working in a man's world thing? Especially as a woman discovered by Jamie Oliver and now collaborating with Fergus Henderson?
"Women tend to cook from their souls more, whereas men are sometimes more analytical and cerebral," she mused. "But there are guys like Mario [Batali], who really cooks from his soul."
Props, Mario! You totally cook like a girl and like, have a soul! (In the best way possible.)
As for April, might her annual pilgrimage home to cook with Fergus inspire an opening in Londontown? Why, she'd love to! Says April:
"I don't know if it would be like the Pig. We're just not sure. I visit London all the time. It's my second home. London is going through a boom now, with lots of new places opening. There has been a lot of influence from New York. Soho has a West Village feel, with an undercurrent of grittiness. I like that."
Okay, no, but seriously, if you find a more unassuming chef out there, we'd love to meet her.
Have a tip we should know? tips@mediaite.com