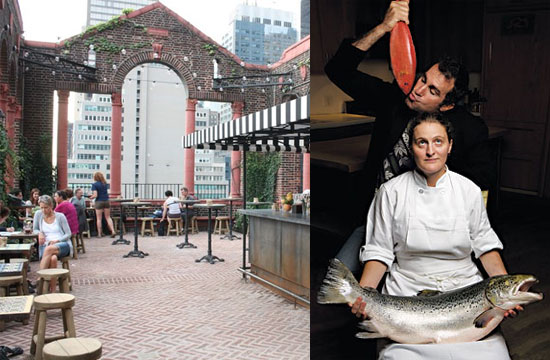 British chef April Bloomfield and her business partner Ken Friedman are opening up a bar at the top of a Salvation Army-turned hotel Pod 39 in Midtown, and it's serving tacos and cocktails.
The eyebrow-raising part about the opening isn't the tacos (Bloomfield and Friedman have hired a chef who specializes in tacos, though they're tight-lipped on who exactly is running the kitchen). It's that Bloomfield, whose restaurants The Spotted Pig and The Breslin are strongly identified with cool, young people, is quietly opening a restaurant in touristy Midtown.
"I think it will be a destination because we have a bit of a following," Friedman said to us in an interview. And while the weather is nice, who can say no to a roofdeck?
Admittedly, Friedman had initially planned to open the restaurant with little of the fanfare that surrounds The Celebrity Chef's Newest Restaurant. "Because of all these blogs, there's no secrets," he said. "But the rooftop bar is open and the cocktail guy is making great drinks. Even the kitchen isn't open yet, we do want to get people up there."
Their involvement with Pod 39, a budget hotel with hip decor and no room service — "it's the opposite of a luxury hotel," as he described it — came out of a proposed business venture with, oddly enough, Jay-Z. Though that venture eventually fell through, it was through that meeting that the two got in touch with Richard Born and Ira Drukier, owners of the prominent BD Hotels group.
"They approached me after they opened the Greenwich Hotel with Ago and said, Ago isn't really working, do you want to work with us? April was a bit busy, so I got Andrew Carmellini out of his apartment and asked him to do it." Locanda Verde, which opened at that location, became a hit, winning a James Beard Award and bestowing good will upon the Greenwich Hotel after the failure of Ago. "Ever since then we've wanted to work together again."
When BD Hotels got in touch with them about an old Salvation Army building they'd purchased to turn into a classy budget hotel, they jumped at the opportunity to keep doing affordable food. "The Ace has been a victim of its own success," Friedman said, referring to the hotel currently housing the John Dory and the Breslin. "It's not a budget hotel anymore. So we see a great opportunity. This is cheap beer, not expensive cocktails, and just like, tacos."
Sam Anderson, the man behind the beverages at Williamsburg's Hotel Delmano, is running the cocktail program, and the menu — with small bites and tacos by both April Bloomfield and the aforementioned unnamed chef who specializes in Mexican food — will likely begin being served in four to six weeks, once the kitchen is ready.
Have a tip we should know? [email protected]