EXCLUSIVE: Art Smith Dishes On His 'Queer For Beard' James Beard Awards After Party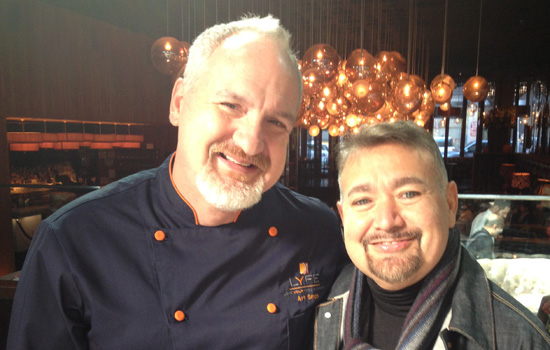 If Art Smith knows anything about anything besides frying chicken and kissing babies, it's throwing parties. So, of course, we were over the moon to hear that he'd be hosting a Queer for Beard party honoring the LGBT James Beard Award nominees and winners past and present. Lucky for us, Art offered up the scoop in an exclusive interview.
The Origin Story:
"I was at the Charleston Wine and Food Festival with some friends, and I was just chatting. We were just drinking bourbon, and [one] said, 'Honey, I love what you did for the South Beach Wine and Food Festival with the Big Gay Ice Cream Social.' And she said, 'I think it's great. I think you should do something for Beard.' And I said, 'You know, that's a great idea, because that's just a foodie mosh pit.'
And then I thought like, okay, what can we do? And I was thinking like…Queer for Beard! I almost said 'Queer as Beard,' but I'm like, no, I'm not going to do that. No no no. The James Beard Foundation will not appreciate that.
But the whole idea — it's also a play on the beard thing, because you know, the Oscars were all about beards. So expect a lot of hot, gorgeous, bearded men. And it's a salute to America's LGBT community who have won, as well as are nominated for, the James Beard Awards, which are the Oscars of cooking, as you know."
The Food and Location:
"It's going to be held at the Out Hotel, in the spa, darling! In the spa! And you know how every great gay party has go-go boys? Well we're going to have go-go hot tub boys! (laughs) So I want to do something fun.
And we're going to do artisan beer. We're working on it. There's a wonderful brewery that's been nominated for a Beard for their beer. That's what I'm working on now. I want to get their beer for Beard! And I have this fantasy of wonderful, fabulous artisan hot dogs. And then…I've heard about these cute guys over in Brooklyn at Baked who make this salted caramel brownie that's supposed to make you see Jesus!"
Why It's Important:
"So, you know, they have the big Awards and then they have the party after, and I've been fortunate to win two of the things, I've been honored, but they always have these after-parties. So I said, I might have one as a salute to the people who have won in the LGBT community. And it's all fairly known that Mr. Beard was gay, and so I think it's important that the LGBT culinary community be heroes to all the young ones and stand up.
I've been a bit loud about what I'm about and what I'm doing, because I feel it's important. They need heroes, and they need people to look up to. And you know, being a chef, everybody loves you, you know, you feed everybody, everybody loves you. And I always cooked because it kept the bullies off me. And it's something that I think is important, being America's foremost openly gay chef, why not throw a big, fun, gay, beard party?
The Guest List:
You want to give everyone an equal opportunity, if they were in New York, to get in on the fun. The James Beard Awards are great, but they're difficult to get into, and expensive, and all that. But if you were just an admirer and wanting to be there — I want everybody to be welcome! That's why I love Twitter, because it's so engaging to everyone. It's going to be one fun-ass party."
There you have it folks. Stay tuned for more on Queer For Beard as the 2013 James Beard Awards approach!
Have a tip we should know? tips@mediaite.com