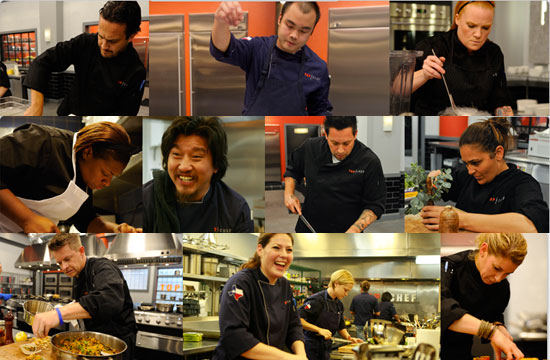 Remember the annual "Restaurant Wars" challenges on Top Chef? Well, duh, of course you do. Those were your favorite episodes (unless, of course, no one had a disastrously memorable meltdown in the kitchen, or unless you count that episode of All-Stars when they went to the dim sum place).
Okay, then. Now imagine that "Restaurant Wars" consisted of a dozen or so of your favorite cheftestants, cooking four-course meals they had adequate time to plan for, without worrying about elimination. Surprise! This isn't your imagination. This is real life. Bravo announced today that for the first time, they're opening Top Chef Kitchen, a pop-up restaurant in New York City.
Ten former contestants — Richard Blais, Jennifer Carroll, Tiffany Derry, Tiffani Faison, Mike Isabella, Edward Lee, Antonia Lofaso, Paul Qui, Grayson Schmitz, and Fabio Viviani — will take over the kitchen for a few days at a time during the limited run between October 16th and November 18th. More details are available on the restaurant's website, including menus and online reservations.
The cool thing about this: you can either book a normal reservation for a four course prix-fixe menu with wine pairings, or a seat at the Chef's Table for an eight-course meal and a chance to hang out with your favorite Top Chef person. A note of etiquette: you will not be allowed to yell incredulous slurs at the Top Chef contestants as they cook for you, because they are in front of you and not on your television screen. (You are also not allowed to wear pajamas to the restaurant, for all you Liz Lemons out there.)
Have a tip we should know? tips@mediaite.com