Alton Brown And Food Network Star Winner Damaris Pitch Her Potential Funeral Food Show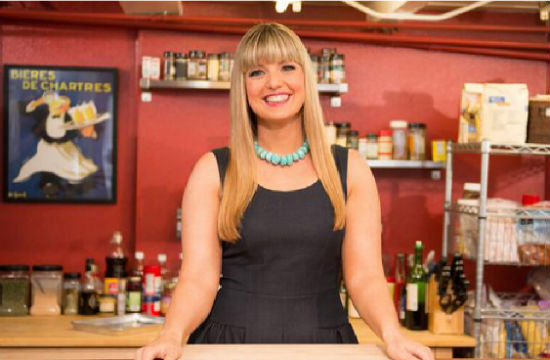 We've been quietly grumbling about Food Network Star winner Damaris Phillips' pilot concept Eat, Date, Love, on account of its limiting, borderline-sexist concept of boy learns to woo girl cooking Damaris' Modern Southern dishes. Much to our delight, FNS judge Alton Brown invited her onto his podcast today for a lengthy interview, in which he, too, pointed out the concept's limitations and offered his expertise, saying that he didn't think the show had to be structured around a boy woos girl concept. Damaris wholeheartedly agreed, willing to make it girl woos boy, boy woos boy, girl appreciates mom, politician thanks babysitter — wait, not that one. But you get the point.
Of course, Damaris could just draw on her childhood experience of cooking for underprivileged, bereaved families at funerals and host a funeral cook-off competition show. Wait, what?
In a remarkably moving part of the interview, Damaris revealed that her father used to own a funeral home, which the Phillips family lived above, and he'd often enlist his culinarily-inclined daughter to whip up a quick plate of food for all the sad, hungry people downstairs:
Alton Brown: See, I don't think people are actually hungry at funerals, I just think that eating is such an affirmation of being alive that you need to do it, because it proves we're alive. We're not dead. We're alive.
Damaris Phillips: I think so, too. I think it grounds you again and makes you feel something other than —
AB: Empty.
DP: Yeah! And overwhelming grief.
AB: Although overwhelming grief, sometimes, it's just what it is.
DP: And you have to feel it, but, sometimes, you can take a little break from that, and a ham sandwich will help for just a minute. And then you can go back to it.
…
AB: I just want you to do a funeral cooking show. I think that would be awesome.
DP: Cooking for a Funeral!
AB: Cooking for a Funeral. I love that idea. It's so Southern Gothic, I can see you doing that. It'd be like some kind of twisted Faulknerian madness.
DP: You'd be like, 'I have the best funeral food.' 'No, I have the best funeral food.'
AB: 'Well, we'll just wait for somebody to die and find out.'
Who doesn't love a cool, sobering podcast on a Summer Friday. Check out this week's Alton Browncast in its entity here.
[Nerdist]
RELATED:
WATCH: And the Winner of Food Network Star Is…
Alton Brown Finally Explains His Twitter Post-Its: 'I Don't Want To Put Up With Rules'
WATCH: All The Food Network Star Pilots, Directed By This Guy
Have a tip we should know? tips@mediaite.com