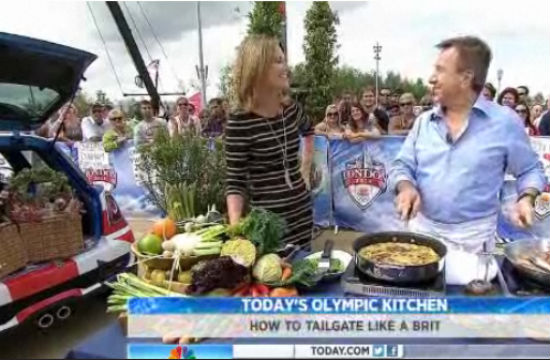 Daniel Boulud stopped by Today's Olympic Kitchen on behalf of the London location of Bar Boulud to show us how to pull off a classic American tailgating party with a British twist (complete with a Union Jacked out Mini-Cooper…because that's how they tailgate on Today…with Mini-Coopers). Instead of your typical burgers and hot dogs, Daniel demoed how to make bubble and squeak topped with cheddar-stuffed bangers on the grill so that you, too, might infuse your tailgate with British flare.
Unfortunately, Savannah made the mistake of referring to Daniel's Cumberland Sauce (an essensh Brtitish condiment) as "gravy." Psh. Amateur.
"But not really a gravy," Daniel immediately corrected with just a hint of offense taken. "When you're French you don't make gravy."
"Sorry! We're doing American! We do gravy in America!" Savannah tried to recover.
"Yes, but this is totally British," Daniel countered.
We can't take the heat. We're getting out the kitchen. Poor Savannah is really failing at that whole worldly news anchor thing, huh? But you can check out the clip below.
Visit NBCNews.com for breaking news, world news, and news about the economy
And here's a bonus clip: after bouncing back from the gravy debacle, Daniel showed off the fancier side of French tailgating with smoked mackerel pots, poached vegetables with garlic aioli, a spinach/cheese/pepper spread with toast, a Tunisian Merguez hot dog, fois gras terrines with figs, pâté grandmère, pâté grandpère, and shredded beef with pistachio and tomato. Uh, can Daniel Boulud cater our next tailgate? Also, can we skip the football part and just tailgate at like, a quaint little outdoor cafe? Great.
Visit NBCNews.com for breaking news, world news, and news about the economy
Have a tip we should know? tips@mediaite.com