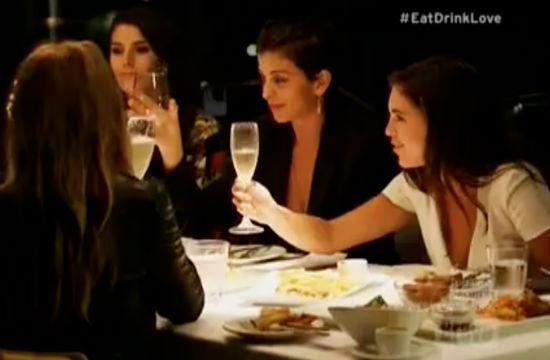 It's with a heavy heart we bid farewell to Bravo's Real Spinsters of Los Angeles Food Media: Eat, Drink, Love. Sure, we took a few issues with its portrayal of women, its bizarre hyper-focus on their dating lives, sexual encounters, and body issues, and its insistence on trotting out Chris Crary like a show pony past its prime. But, ultimately, we were happy to see some like-minded ladychefs, lady food writers, and other key lady industry players getting exposure via Andy Cohen's hovel of vaguely misogynist doom. And damn it all to hell if we didn't wind up falling for each of them, awash in their own special snowflake neuroses, just a teeny bit.
So, pop quiz time: what's the best moment to pick a fight about the promotional politics of a pop-up restaurant? Did you answer "24 hours before that pop-up is due to launch"? Then you get an A+ in Thinking Like Lindsay! Watch the season's final brawl unfurl below.
Of course, Nina's pop-up went off without a hitch, everyone ignored Lindsay, and the epilogue concluded with this rousing toast to women making it work in a male-dominated industry (and a big reveal about Nina's surprise pregnancy?! Congrats!). Go ahead. Watch it and be a weak-hearted sentimentalist for like, three minutes. We won't judge you.
RELATED:
WATCH: In Which We Prove the Mathematical Possibility of an Eat, Drink, Love Hook-Up
Eat, Drink, Love's White Trash-Gate: 'I Have Revoked Her as My Girl Crush' (VIDEO)
WATCH: 'Trailer Park Hummus'-Gate Fuels New Eat, Drink, Love Rivalry
Have a tip we should know? tips@mediaite.com