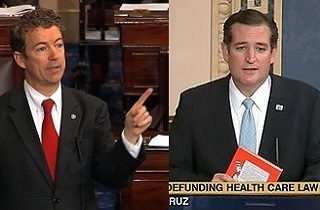 Although it's still early, polling on the 2016 Republican primaries has been a seesaw affair that is trending in the direction of people who bring up Nazis on the floor of the U.S. Senate. In a poll taken after his epic 21-hour Sillibuster™, Senator Ted Cruz (R-TX) has taken the GOP primary lead from Sen. Rand Paul (R-TX), who took that lead following a filibuster of now-CIA Director John Brennan's nomination.
Senator Marco Rubio (R-FL) better start practicing the TENA Twist. After holding a slim lead in several polls earlier this year, the filibuster-free legislator has been left in the dust in the latest poll from Democratic-leaning (but dead-on accurate) Public Policy Polling, even falling behind establishment picks former Gov. Jeb Bush (R-FL) and Gov. Chris Christie (R-NJ):
PPP's newest national poll finds Ted Cruz is now the top choice of Republican primary voters to be their candidate for President in 2016. He leads the way with 20% to 17% for Rand Paul, 14% for Chris Christie, 11% for Jeb Bush, 10% each for Marco Rubio and Paul Ryan, 4% for Bobby Jindal, and 3% each for Rick Santorum and Scott Walker.

Cruz has gained 8 points since our last national 2016 poll in July while everyone else has more or less stayed in place. He's made himself the face of a government shutdown over Obamacare, and the Republican base supports that by a 64/20 margin. It's not surprising that Republicans identifying as 'very conservative' support a shutdown 75/10, but even the moderate wing of the party supports it by a 46/36 margin.
At this rate, Christie and Bush are going to have to figure out some way to get on the Senate floor, since Cruz has at least lowered the bar to include quasi-filibusters.
The poll also found that Sen. Cruz crushes Republican leaders when it comes to trust among the GOP base:
Our numbers also suggest that Cruz is now viewed more broadly as the leader of the Republican Party. When asked whether they trust Cruz or GOP leader Mitch McConnell more, Cruz wins out 49/13. When it comes to who's more trusted between Cruz and Speaker John Boehner, Cruz has a 51/20 advantage. And when it comes to Cruz and 2008 GOP nominee and Senate colleague John McCain, Cruz wins out 52/31. He now has more crecredibility with the GOP base than the folks who have been leading the party for years.
The emergence of the filibuster-esque speech as a ticket to the top of the polls doesn't portend well for a Congress that already can't get anything done, but it will surely be a boon to cable news producers and late-night comedians. How long can it be before C-Span 2 viewers are treated to a 20-hour version of Dueling Filibustering Banjos?
[photos via screengrab]
Have a tip we should know? tips@mediaite.com