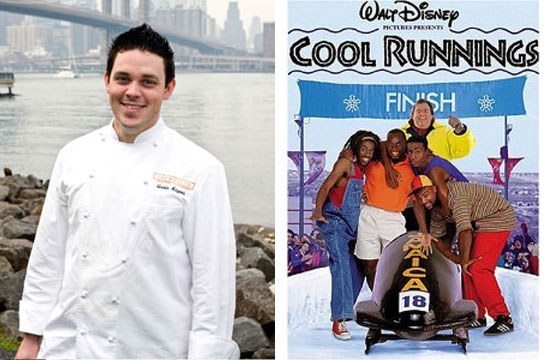 The explosion of culinary media not only prompted Americans to start thinking more seriously about their food, it has, according to former Bocuse d'Or USA competitor Gavin Kaysen, made it impossible for Americans to stop half-assing it when they compete at the international level.
The San Francisco Chronicle went behind the scenes of Richard Rosendale's hyper-intense Bocuse d'Or training with a team of coaches, both chefs and physical trainers. But according to Kaysen, the reason that Thomas Keller and Daniel Boulud are flying around the country raising money for Rosendale's custom-built kitchen in a nuclear bunker (with The Modern chef Gabriel Kreuther hovering over Rosendale like Yoda) is a direct result of his own experiences at the Bocuse d'Or. Compared to his international competition — especially the Europeans — he was wildly underprepared, and the executive chef of Cafe Boulud ended up in 14th place.
"If you think about all the amazing restaurants, all the amazing chefs and amount of media that food has generated in this country, it makes no sense to have a chef go over there like it's the Jamaican bobsled team," said Kaysen.
No, Kaysen, no cry.
That loss, however, spurred Keller, Boulud, and Jerome Bocuse to redouble their efforts to put an American at the top of the podium, which has never happened in the entirety of the competition's history. Kaysen's been helping out too, flying out to the French Laundry's training facility and passing on rumors about secret ingredients. But more than just making the effort about redemption songs, Kaysen wants to prove something to the world:
"It's not just being able to help Rich get on the podium," says Kaysen. "It's bigger than that. It's about having that collective understanding between all the chefs on the culinary council that we all have the same goal, which is truly to make American cuisine shine even more."
[SFGate]
Have a tip we should know? tips@mediaite.com