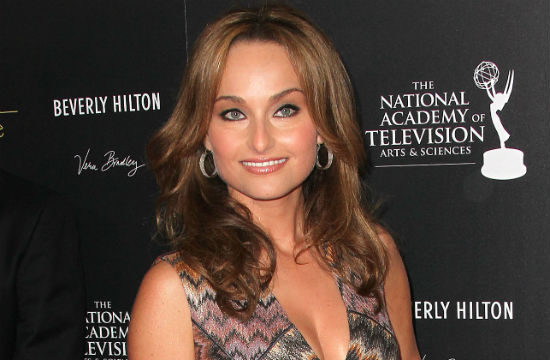 On the most recent episode of Bon Appetit's podcast, Bon Appetit Foodcast, Giada De Laurentiis went pretty deep in a way that we don't see that often. We all know her as the always bubbly chef on The Today Show, Giada at Home, or any of her other countless television appearances, but really, she's just like us (only prettier and better at cooking and everything else).
"Chefs," she began, are a "new phenomenon." It's only in the last ten or so years that chefs are also celebrities. They used to just want to "feed people and make people happy…behind closed doors." For Giada, doing television helped her come out of her shell. She's self-described as an "antisocial human being," but she forced herself to do TV, and to meet people and she's known to meet and shake hands with every single fan who attends her events. She described it like therapy.
What she doesn't like about that part of the job is the "touching…I don't know that they touch Gordon Ramsay or Jean-Georges [Vongerichten] as much as they like to hug and touch me. That's where it gets a little tricky," she said.
Giada entered the celebrity chef world backwards. Unlike most chefs, she did television before she ever opened a restaurant. It made it more difficult, when she did open a place of her own, not to be crucified. That's part of the reason she chose Las Vegas over a place like New York or Los Angeles. It was what was plausible for her brand, a "dinner and a show" type thing. The concept wouldn't work anywhere else in the world.
It didn't stop critics. In 2014, Pete Wells reviewed her restaurant. If you remember anything about his review of Guy's American Kitchen and Bar, we're not going to say it was exactly like that…but he didn't like the restaurant one bit. The place is still open, and plenty of people are going.
She also recounted her successes. When she published her first book, she was told by an editor that she would "never sell as many books as Ina Garten."
"Watch me," she said. And she did. During her first book tour, she had sold out every book in pre-sale, and she didn't have any copies to bring with her. She signed other chefs' books instead, including Rachael Ray's, Bobby Flay's, and, incidentally, Ina Garten's.
In a lightning round, she also shared some quick tidbits. She prefers chia seeds to acai berries, and fritattas to omelets (she makes her fritata in a pizza oven).
Also, it's pronounced ja-dah, not jee-a-dah, but you can just call her "G."
Related:
Bobby and Giada Still Not Dating, Even Though Tabloids Want Them To Be
Giada De Laurentiis Tweeted Her Favorite Super Bowl Recipe
–
Have a tip we should know? tips@mediaite.com