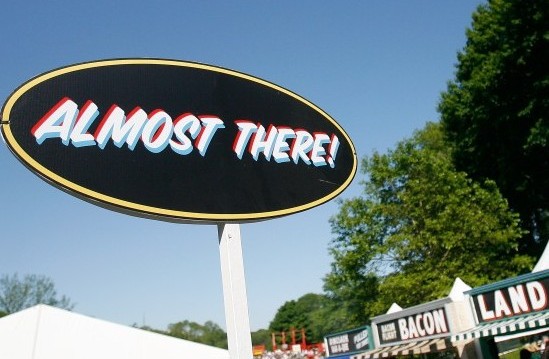 We've had our complaints with New York food festival The Great Googa Mooga for both years that it's been held (the first time it was a clusterfuck, the second time it was a wash) and apparently, so has the City of New York. In a City Council meeting yesterday, the Parks Department announced that they would not allow the festival to return to Prospect Park in Brooklyn, to the relief of hundreds of Park Slope mothers.
Betsy Smith, head of revenue and marketing for the Parks Department, cited extensive damage to Prospect Park's grass and natural animal habitats, as well as the fact that the park had to be closed off to residents because of the presence of alcohol. She also revealed that the Parks Department had given Superfly Productions, the team behind Googa Mooga, two years to prove that they could host an event on public land. "After two years of assessing [GoogaMooga] in that site, we pretty much feel at this time that it's probably not the appropriate venue for something like that,"  she said, according to A Walk in the Park. 
Councilman Brad Lander commented on Facebook that he knew this decision would "make many of [his] constituents happy": "The Parks Department felt it was an experiment, they gave it two years, and have concluded that the event was too large & had too much impact on the Nethermead to be worth it." (Apparently, the festival only gave $75,000 to the Prospect Park Alliance this year — $25,000 less than they got last year.) Superfly, on the other hand, stated that they "cannot confirm future plans at this time."
It's not running the festival out of town on a rail, but it'll do.
[h/t: City Room]
RELATED:
Will New Yorkers Forgive Googa Mooga?
The Entire Great Googa Mooga 2013 Lineup: Let's Try This Again, Shall We?
Chefs Hoping For 'Straight F*ckin' Cash' Ended Up 'Bummed' By GoogaMooga
Have a tip we should know? tips@mediaite.com