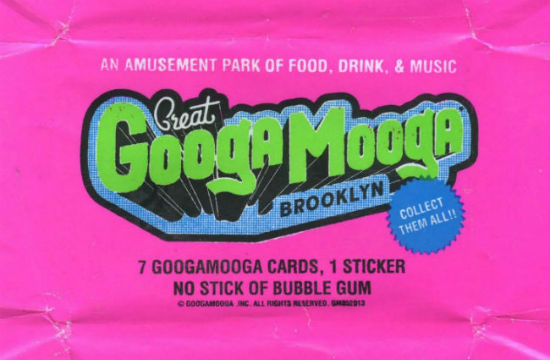 Pack up your Pepto and step out of your rain boots, today's Great GoogaMooga festivities have been canceled due to inclement weather. Paul Nelson, press director for the Prospect Park Alliance said the decision was made "in the best interest of the park and the environment." The cancellation announcement emailed to press this afternoon reads:
Due to poor weather, the New York City Parks Department, Prospect Park Alliance, and Googamooga have decided to cancel today's festival in the interest of safety and prevention of damage to the park grounds. All Sunday VIP ticket purchases will be refunded in full.
We spoke to Jonathan Mayers, co-founder of Superfly, the company that produces GoogaMooga, for a closer look at what went down today. He told us that his company will be refunding Sunday VIP tickets, as well as drink tickets that were purchased today. He discussed obviously feeling "disappointed", and touches on the likelihood of giving GoogaMooga another go in 2014 ("I'm still assessing"). Read on for his thoughts, and check back for more updates as we follow this story.
The Braiser: This is probably frustrating for you given what happened at last year's GoogaMooga. How are you feeling right now?

Jonathan Mayers: Oh, I would say disappointed. So many people have put so much hard work into making these three days happen and creating this special event, and so of course it's disappointing, but it's also something we can't control. So much heart and love that goes into what we're trying to do. Especially coming off of last year when we really wanted to come back this year strong. Today's disappointing, but the last couple days were really great and we don't want to take that for granted, we'll look forward.
So what now? Is there a contingency plan, or a party we can have to use up all that food?

That's what we're working on right now. First we are working with [New York City Parks Department] to be sure that safety is our number one precaution. We are doing things like refunding VIP Sunday to the fans, we also will be refunding drink tickets. We are working on solutions right now about what we're doing with the food but that's something that our team is very much on. Our restaurant coordinating team is working with all the vendors, making sure there's smooth load-out.
Last year Superfly paid $50,000 to help re-seed the grass in Prospect Park after GoogaMooga. Was the impact on the park's environment the main reason for today's cancellation? Was low turnout a factor?

Yeah I mean I would say the protection of the grounds were definitely a key part of that decision but first and foremost was the safety of the fans and vendors. The demand for the tickets was there, but ultimately the park made the decision and I think it was primarily based on the protection of the grounds and safety issues.
Last year's event got a lot of bad press and there was a lot of whining from people who couldn't get their beers and whatnot, and now today has had to be canceled. What are you thinking about doing GoogaMooga again in the future?

My company, Superfly, we produce festivals throughout the country – Bonnaroo, OutsideLands – and we're really passionate about what we do, and we're passionate about what GoogaMooga can become…trying to bring people together and celebrate all these great spots and creative people. That's what we do.
I think we all worked so hard so that this could be an annual event, but right now we'll take things as they come and we're focused on finalizing this year and that's it.
I would love nothing more than to come back and try to make this an annual event. We had some great couple of days, I mean, Friday the kickoff concert was fantastic and yesterday I think there was really great strides from last year but, you know, it was definitely disappointing not to have a beautiful day in the park [today].
What stood out yesterday as an improvement over last year?

The lines were greatly improved, the way that we used the site. I think we made some good changes there. I think it was a good year two event. From my experience, sometimes these events take a few years to really get dialed in and it's experimenting and trying things, and that's how you learn. But I think we did take some big strides forward this year.
Is there anything that you would work to change for next year if you are going to bring the event back?

I think that we really need to assess, and talk to our vendors post-this and really listen to what they have to say and kind of learn from that. So, I'm still assessing, but there will definitely be changes. These projects continue to evolve and keep improving.
Some of the chefs we spoke to were concerned about losing money because they had prepared for a crowd that was as huge and hungry as last year's. What do you think the financial impact of this cancellation will be, either for your company or the small businesses that are involved?
Right now we're focused on the next day, and getting all of that sorted and refunding, but working really closely with the restaurants to number one get things settled and work through solutions, so that's exactly what we're focused on.
Final thoughts?
We're coming from a place that we really want to do something special and something that the community can be proud of, and come out to this beautiful park and celebrate and support all of these local businesses – that's our intention.
It's a really challenging project, it really is. We worked really hard and have for a long time, and we appreciate people coming out here and supporting; their patience and understanding those challenges.
In an email, Paul Nelson of the Prospect Park alliance confirmed that VIP ticketholders will be refunded, and that the event was canceled, "in the interest of safety and prevention of damage to the park grounds." He also assured that Mayer's company "has been very responsible in taking care of the Park and any wear and tear from last year was taken care of by Superfly." We happen to live in the neighborhood so we'll see how the Nethermead field shapes up in weeks to come. As for more GoogaMooga disaster coverage, if you went — or attempted to go — today, we'd love to hear from you. Email tips@thebraiser.com with your account of the day, and how you feel about it getting shut down.
To relive yesterday's fun, read our interviews with Justin Warner and Hugue DuFour, and scroll through the celebrity chef trading cards you won't be able to collect.
Have a tip we should know? tips@mediaite.com