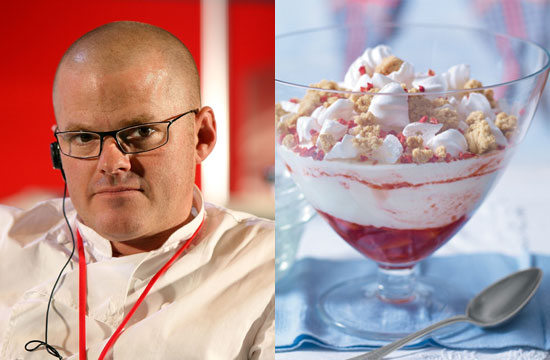 For 60 years, Queen Elizabeth II has reigned over a country that likes to go crazy over certain things, like the Beatles, the Spice Girls, Pippa Middleton's rear, and now, a dessert that Heston Blumenthal created for her Diamond Jubilee.
HuffPost UK reports that the yogurt dessert, which "includes a compote made from British strawberries, rose water and elderflower cordial, topped with a marble cream and crumble topping," will be served at a picnic next week at Buckingham Palace celebrating the Queen's reign, but loyal Brits not posh enough to go to the picnic can make it at home with this convenient recipe.
Which, apparently, they're doing in droves. Waitrose, an upscale, Dean and Deluca-ish British grocer which published the recipe on its website, reports that they're selling out of the more obscure ingredients needed to make the fancy schmancy dessert that still sounds like something to be consumed in a burrow with Beatrix Potter:
Sales of Elderflower cordial have been soaring by an incredible 1,000 per cent, while rosewater – which gives the dessert a distinctive fragrant quality – has been selling at 52 times its normal rate. Meringue shells, which form the pudding's topping, are selling at 20 times the levels the supermarket would normally expect.
Meanwhile, the recipe has a four-star rating out of 130 reviews on its website, which is pretty good for a recipe that was published three days ago.
The Fat Duck chef and Michelin star-holder, for his part, is glad to have contributed something to this national celebration for the dear Queen, even if it's not his normal molecular gastronomy fare. " "I have designed this indulgent pudding especially for The Queen's Jubilee weekend, which coincides with the beginning of the British strawberry season," he wrote on Waitrose's website. "It makes me proud to be British!"
Have a tip we should know? tips@mediaite.com