Sign Of The Zombie Apocalypse? Naked Man Shot While Eating Someone's Face Off In Miami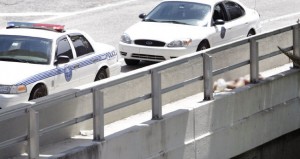 I'm trying to think of a non-disgusting way to present this story, but even with just the barest of details this thing makes me want to upchuck. So just be warned before you read the details of this rather weird police story. Because a naked man in Miami was evidently shot by police while in the process of chewing another man's face off, so this isn't exactly a light story.
The Miami Herald gives perhaps a little too much detail into the circumstances surrounding the assault and shooting
According to police sources, a road ranger saw a naked man chewing on another man's face and shouted on his loud speaker for him to back away.Meanwhile, a woman also saw the incident and flagged down a police officer who was in the area.

The officer, who has not been identified, approached and, seeing what was happening, also ordered the naked man to back away. When he continued the assault, the officer shot him, police sources said. The attacker failed to stop after being shot, forcing the officer to continue firing. Witnesses said they heard at least a half dozen shots.
This caused a bit of a traffic jam, which was unfortunate as people were driving to South Beach this weekend for Urban Beach Week. I can only assume this may be the worst start to Urban Beach Week in history. Police are now saying that the naked attacker was likely suffering from "cocaine psychosis," a rather unpleasant mental condition brought on by drug use.
Have a tip we should know? tips@mediaite.com
Josh Feldman - Senior Editor