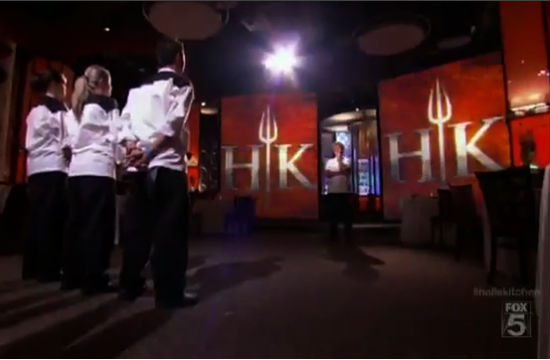 Tonight marks the beginning of the end for Hell's Kitchen Season 10 and Masterchef Season 3. Part one of the finales air tonight on Fox, but last week's Hell's Kitchen cliff-hanger left us not yet knowing who the final two cheftestants competing for the grand prize would be.
Tonight, Gordon Ramsay chooses between Justin, Christina, and Dana to determine who makes it to the final challenge, which proves to be an exercise in Las Vegas spectacle. From what we can tell, there are showgirls, the season's previously eliminated contestants flown in on a private jet, Penn and Teller, and, of course, Culinary Sheriff of Las Vegas Wolfgang Puck stops by the judge the remaining chefs.
Who will make it to next week's final showdown? And more importantly, are we the only ones rooting for a girls' club in the finalist circle? Stay tuned to Fox tonight at 8pm to see how it all shakes out.
Check out a sneak peek below.
Then, on MasterChef, Josh, Becky, and Christine get a taste of what it would be like to win when they see a copy of their MasterChef cookbooks for the first time. The booted contestants from their season also return to cheer on the final three from the balcony as they enter their penultimate challenge. Whatever will their mystery box be? Will Christine and Becky squeeze Josh out of the finals for an all-girl MasterChef finale as well? Stay tuned to Fox at 9pm to find out.
You can check out the sneak peek below.
Have a tip we should know? tips@mediaite.com