Madeleine Albright: 'I Can't Understand Why Any Woman' Would Vote For Romney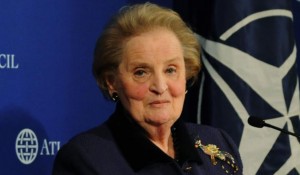 In an election year where the economy has been the primary issue for many, there has been quite a lot of talk about women's issues, from the accusations months ago of a "War on Women" to the recent comments made by Congressman Todd Akin. Former Secretary of State Madeleine Albright told The Huffington Post that she cannot understand why any female voter would support the Republican presidential ticket.
RELATED: Ann Romney Reflects On RNC Speeches: I 'Wanted Women To Know We Hear Their Voices'
Albright pointed out that despite all the outrage from the Republican party against what Congressman Akin said, "the things he said in one form or another are in the Republican platform." Speaking about the GOP's overall positions on women's issues, Albright admitted she couldn't figure out why any woman would vote for Mitt Romney in November.
"I think there are some who believe they are actually protecting women, you know, and that it is better for women to be taken care of. I think women want to take care of themselves, and I think having a voice in how that is done is very important. And frankly, I don't understand — I mean, I'm obviously a card-carrying Democrat — but I can't understand why any woman would want to vote for Mitt Romney, except maybe Mrs. Romney."
A spokeswoman for the Romney campaign responded to Albright, saying that "the millions of American women unemployed, underemployed or constantly worrying about filling the gas tank or put food on the table can think of a few reasons to make sure Barack Obama isn't our president for another four years."
h/t HuffPo
—–
Follow Josh Feldman on Twitter: @feldmaniac
Have a tip we should know? tips@mediaite.com
Josh Feldman - Senior Editor