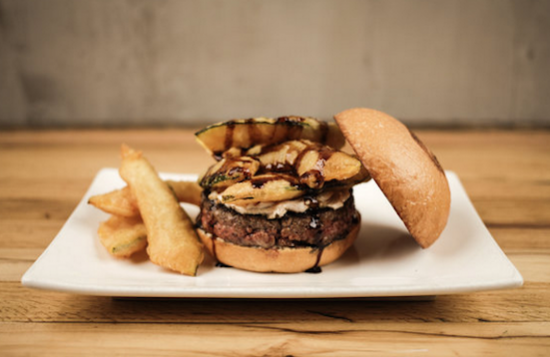 Put on your most basic b*tch outfit and get on out to Umami Burger for the Pumpkin Spice Latte of burgers.
While we've been ready to phase out the whole #PSL craze with Halloween over, Umami Burger is shoving it back into the public eye. In burger form. What comes on a Pumpkin Spice Latte Burger, you ask? It's "Umami Burger's signature beef patty with a garlic aioli, tempura Kabocha (an Asian winter squash), spiced Mascarpone, and a coffee glaze." Mmmk. No weirder than frying chicken in chocolate.
The chain knows just how basic you really are if you order such a monstrosity of a burger; from the release:
"So on your way to yogilates or Starbucks, pick up the Pumpkin Spice Latte Burger too. And don't forget to throw on your Uggs. We swear you'll be OBSESSED after first bite."
So really — a joke? Non-joke? Will people really buy this? Some like it.
Never expected to hear this in an interview. "Magical nirvana happens in your mouth." @tedhopson on @umamiburger's #PumpkinSpiceLatteBurger

— Claudia Peschiutta (@ReporterClaudia) November 4, 2014
Props to the people @UmamiBurger for having a sense of humor and including this in their press release. pic.twitter.com/5snAGoA7Or

— Claudia Peschiutta (@ReporterClaudia) November 4, 2014
But yeah, they're loving being basic.
Yes, yes we did… Nothing #basic about it. #pumpkinspice pic.twitter.com/p4BEPsQGJp

— Umami Burger (@umamiburger) November 3, 2014
[SFist]
RELATED: Umami Burger Creator to Open Restaurant with Chicken Fried in…Chocolate
Burger Orgy: The 11 Biggest Ramen Burger Ripoffs of 2013
Judge Rules That the Word 'Umami' Cannot Be Trademarked
Have a tip we should know? tips@mediaite.com