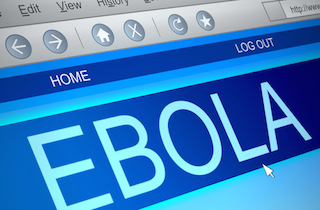 In the past ten days the U.S. has lost interest in the virus that recently dominated headlines and threatened to metastasize across the 2014 midterm election.
Less than two weeks ago the presence of a case in New York City augured to some the pivotal moment when the virus leapt from some Dallas hospital room to the dense urban jungle of Gotham, where it could not be controlled. Instead, Dr. Craig Spencer is now the only ebola patient in the United States, and the two Dallas health care workers who represent the sole cases of ebola transmission in the U.S. are both clear of the virus. With only one fatality out of nine cases in the U.S., the country has an ebola mortality rate of 11%, far below the global average of non-west African countries.
Sure enough Google Trends finds the interest in ebola declining beneath the levels preceding the virus' stateside arrival. Interest initially surged after the CDC announced Thomas Eric Duncan had tested positive for ebola on September 30. Attention peaked on October 16 following the announcement that infected nurse Amber Vinson had flown from Cleveland to Dallas just before becoming symptomatic, a news cycle that coincided with heavy criticism of Texas Health Presbyterian Hospital's ebola protocols. Interest spiked one last time when Spencer tested positive.
Since then, however, U.S. attention has waned:
This is a rapid turnaround from a fortnight ago, when many predicted anxiety over the virus would figure prominently in the final days of the 2014 midterm elections. For a spell any politician calling for a travel ban from west Africa (never actually implemented) could get on television, while GOP candidates cut campaign ads tying ebola to the U.S.-Mexico border and ISIS. Late last week GOP candidate Scott Brown (R-Northeast), patient zero of ebola demagoguery, was still using ebola to drum up fears of undocumented immigrants humping it across a porous border.
But Brown's fearmongering has charted a course opposite that of the public, which has reported increasing confidence in the government's ability to contain ebola and decreasing fears that it will spread in the U.S. Midterm coverage has focused not on ebola but on party branding. Meanwhile at least some news outlets have contributed to the calm by declining to report on every patient with ebola-like symptoms. And after some early missteps the CDC appears to have a handle both on the virus and public reaction to it.
Ebola continues to debilitate countries in west Africa, where it has taken a massive toll and where it ultimately must be stopped. But in the U.S. the fever has broken.
(FWIW the state with the highest ebola interest was Oklahoma and the second-highest related search was for the film Outbreak.)
[Image via screengrab]
——
>> Follow Evan McMurry (@evanmcmurry) on Twitter
Have a tip we should know? tips@mediaite.com