Lady Chef Stampede: A Chef Who Didn't Accept 'We Don't Have Women In Our Kitchen'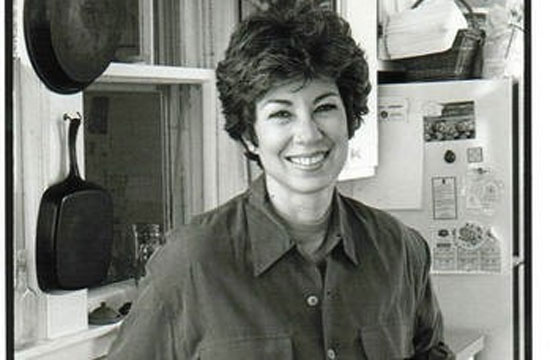 Welcome to Lady Chef Stampede, Amanda Cohen's series about the world's most influential Lady Chefs! Click here to read her Q & A with us about the column, or read on to learn more about this week's Lady Chef…
Yee-ha! It's another installment in the Lady Chef Stampede! This week, the LCS is pouring out a little of its forty for a chef who opened a big door for women, had her own restaurant, and died about nine years ago. Her name: Leslie Revsin.
Resvin's dad worked quality control for a big industrial baker in Chicago (where she was bored), turning out doughnuts, French bread, pulled sugar flowers, and cookies in vast quantities. She graduated from Macalester College in St. Paul, Minnesota, then, with husband and new baby in tow, she moved to Brooklyn and enrolled in the vocational cooking program at Brooklyn's New York Technical College. It was a program that was mostly full of men and she was definitely the odd woman out there. One of her instructors encouraged her to apply for a job at the Waldorf-Astoria, which was a big deal back then, and she got hired as a "Kitchen Man", basically a porter, lugging produce.
That was in 1972. One year later, after a stint working garde manger, she was promoted to poissoniere, the chef in charge of the seafood station, making her the first female chef to ever work in the kitchen of the Waldorf-Astoria in its 80-year history (all the way back to when it was just the Waldorf). This was such a big deal that her promotion became national news. She was 29 years old.
Although the history I'm able to put together is a little unclear, it appears that even after this promotion, as the LA Times puts it, "Revsin was shut out of the top French restaurants she aspired to cook in, the Le's and La's that then dominated the food scene in the city." She says in an interview, "I was laughed out of those kitchens…That was when you could get away with saying 'We don't have women in our kitchen'." One of the excuses she heard: how could they possibly hire her? After all, where would she change clothes? They couldn't be expected to provide her with her own changing area, could they? What an inconvenience!
In 1977, she went her own way, opening Restaurant Leslie on Cornelia Street, with only nine tables (that's pretty much the size of Dirt Candy). She became famous among the foodie crowd serving Roquefort beignets over apple puree, grilled double breast of chicken with two mustards, a legendary coeur a la creme, what's been described as "perfect" vinaigrettes, sweetbreads with saffron and truffles, and a cheese course, long before cheese courses were trendy in American restaurants. There was also a dire-sounding, but apparently much-loved, dessert: Angel Hair Pasta with Strawberry and Brown Sugar Sauce. She hand-wrote the menu and, by her own admission, "spent a fortune on flowers." The restaurant was deeply loved and had a devoted following but, in another chapter of that old New York story, when her rent tripled she went out of business. Restaurant Leslie closed its doors in 1981. The New York Times wrote, "It was the last time Ms. Revsin was her own boss."
Stints at the restaurant One Fifth (in a space now occupied by Mario Batali's Otto), Argenteuil (she left after a dispute with the owner), and the Bridge Cafe followed. She also cooked at The Village Green, where she met her second husband, Philip Carlson. He showed up to be a waiter, and shortly after starting a dishwasher approached him with a romantic offer: "If you're straight, the chef is interested." But despite her reputation for being temperamental, most people who worked for her say that she was very relaxed and the only time she was tough was in her demand for perfection. The comment sections on her various online obituaries are full of past colleagues and employees noting one kindness or another: Revsin replacing the contents of their wallet after it was stolen, Revsin providing them with a calm and centered kitchen environment, a refuge from the screaming at other restaurants.
In 1990, she left the city to work at the Inn at Pound Ridge, about 40 miles outside of New York. She stayed there from 1990 to 1995, her longest stint anywhere, then she formed a restaurant consultation company. She wrote several cookbooks, and eventually moved to Seattle to continue writing and to be closer to her daughter and grandchildren. On the day she left New York she was told she had ovarian cancer. Within a year of arriving in Seattle she died in hospice. She was 59 years old.
Sometimes it's really hard to write these pieces. I look around and see today's superficial elevation of the same five or six chefs to celebrity status, and I wonder, "Why him?" I think of how few people, myself included, know the names Leslie Revsin, or Sally Darr, or Anne Rosenzweig, or Edna Lewis. These were chefs who struggled. These were chefs who opened doors to other chefs and who overcame odds that today's celebrity chefs never dreamed about. They were in their kitchens every night and they didn't spend all their time doing publicity. And I wonder: is it fair that so few people remember them? Is that what happens when you don't appear on the Food Network all the time? You just disappear?
Leslie Revsin was a woman. She was a chef. I wish I felt like in today's food scene that was enough.
PREVIOUSLY: Chefs of the 1990s, Li Li, Sylvia Woods, Rosita Guerrero, Josefina Velazquez, Mary Vereen Huguenin, Female Sushi Chefs, Dione Lucas, Elena Arzak
Have a tip we should know? tips@mediaite.com