Lady Chef Stampede: Madeleine Kamman, The French Chef Who Battled Julia Child (And Survived)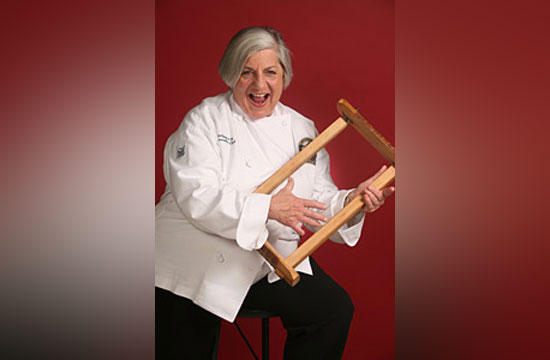 Welcome to Lady Chef Stampede, Amanda Cohen's series about the world's most influential Lady Chefs! Click here to read her Q & A with us about the column, or read on to learn more about this week's Lady Chef…
While the Lady Chef Stampede is only supposed to talk about lady chefs, I've been deviating from that path a lot recently. Whether it's Rosaura Guerrero, the founder of Rosarita Foods, or Amy Scherber, the baker who founded Amy's Breads, I've been mixing it up and keeping you off balance. Today, I want to keep it unpredictable by talking about one of the food world's most important cooking teachers, Madeleine Kamman.
Called the "the superego of modern America's food revolution" by the New York Times, she has been viewed as a cook's cook, the French chef who had a feud with Julia Child, a temperamental Yoda who taught a generation of cooks, a tireless self-promoter, an intellectual, and a terror. However history is going to categorize her, that's up to history. I just want to stick with the facts.
Born in Paris, Kamman grew up on the complex, amazing cooking of her mother and grandmother, which all but disappeared during World War II ("We lived on beets," she said after detecting some beet juice in a dish at a restaurant. "It was the only food we had. I can tell you if there's a teaspoon in a quart."). Later in life she would harshly criticize chefs like Paul Bocuse for stealing the food that had been invented by their grandmothers and taking all the credit (there is something to this accusation, and some brilliant female French chefs like Eugénie Brazier have been forgotten). As a teenager she worked for her aunt's restaurant in the Loire Valley. She wanted to be a historian, but couldn't afford to pay for more than a year of university. She became a secretary (albeit one who spoke three languages) and got a job with Swiss Air. She attended the Cordon Bleu, married an American, and moved to Philadelphia where she continued working for Swiss Air until 1962 when she had her first son.
Around the time she had her second son in 1966, she began to teach French cooking classes at home, which came out of a deep depression. "I went into transcultural shock," she said in a New York Times interview about moving to the United States, "not being able to speak my native tongue, eat my food, see my architecture, listen to my music. I got strep throat after strep throat. I was so lonely." In 1961, Julia Child had published Mastering the Art of French Cooking, which quickly became a best-seller, and in 1963 her popular television program, The French Chef, began to be broadcast, so Americans wanted to know more about French food and how to make it. This was the awakening of the American palate and Kamman was right there in the middle of it. In 1968 she moved to Boston and opened her restaurant, Chez La Mere Madeleine, and The Modern Gourmet, which was staffed by students from her school.
At Chez La Mere Madeleine she was using lime, chilis, and ginger before any other chefs in the US. In a lot of ways, she was helping to lay the groundwork for the New American Cuisine that would emerge in the 1980s. She was also prickly as hell. "The passion for truth is annoying to other people," she said, but she refused to let that stop her. She wrote a letter to the New York Times criticizing Craig Claiborne, the food editor's, recipe for escargot. He visited her, wrote an article about her that appeared in 1970 and she got her first book deal for The Making of a Cook from it. She has since written seven cookbooks, and they're all still in print.
In 1980, she moved back to France, seeking a bigger, better-equipped space, and opened a cooking school in Annecy, but returned to the US two years later, complaining that high French taxes (and France's endemic sexism, Paul Bocuse liked to make charming statements that women belonged in the bedroom, not a professional kitchen) had required the shuttering of her school. Her career was in trouble when she returned, with many people claiming that she had washed out in France and was over as a chef. Her friend James Beard went to bat for her, letting people in the food world know she was still there, still Madeleine, still great, and she got her feet back under her.
She moved to Glenn, New Hampshire and opened a cooking school and restaurant, Auberge Madeleine, and then learned that she had heart disease. The bad kind. The kind that was going to kill her immediately if she didn't change her life. Closing the restaurant, she and her family moved to California where she opened the School for American Chefs in the Napa Valley (she also embraced Buddhism). Napa felt like home to her because people there took food seriously. "I finally found a place in the United States that I Iike," she said.
The School has been wildly popular with sometimes 100 chefs jockeying for eight slots. In 2000, Kamman, then 69 years old, decided to stop teaching. Since then she has written books and enjoyed her family, and mellowed. Although her students describe her as tough, demanding, and a perfectionist, those who respond to her teaching also describe her as unfailingly generous and a real source of support in their lives and their careers.
As for the feud with Julia Child? Even that mellowed at the end. Early in her career, Kamman decried Julia Child's The French Chef pointing out that Child was neither French nor a chef. "I am French! Why would they want an American French chef?" She forbade her students from either reading Child's books or watching her show, and apparently wrote mean letters to Child, who reportedly turned them over to her lawyer. The remarks stung, however, because at a dinner in 1985 Julia Child remarked of Kamman, "I shall grab her by the short hairs (wearing gloves of course) and I will grind her alive, piece by piece, in my food processor." Ouch.
Much later, both women were far more mellow. Kamman said more recently, "It is not a question of not getting along. I don't know Mrs. Child, and she doesn't know me. I may disagree with Mrs. Child's technique and what she does, but that doesn't mean the person is obnoxious. I recognize what she has done has been very useful for the country, and I have been the beneficiary." And Child herself said that Kamman was not her enemy and that she welcomed everyone in the business.
For all I know, Madeleine Kamman is still alive, cooking for her grandchildren, keeping up with the hundreds of her students who have become chefs around the world, and still cooking in her kitchen, like her mother, her grandmother, and all the great long line of France's female cooks who stretch out into the past, elevating their country's cuisine but never getting the credit until far too late.
PREVIOUSLY: Leslie Resvin,  Chefs of the 1990s, Li Li, Sylvia Woods, Rosita Guerrero, Josefina Velazquez, Mary Vereen Huguenin, Female Sushi Chefs, Dione Lucas, Elena Arzak
Have a tip we should know? tips@mediaite.com