Since 2007, NSA & FBI Also Mining Data From Microsoft, Yahoo, Google, AOL, YouTube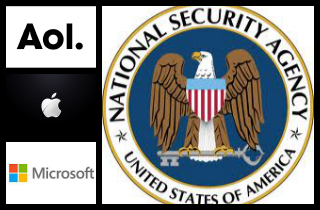 (UPDATE BELOW) One day after the Guardian unearthed evidence that the National Security Agency had secretly obtained the phone records of millions of Verizon customers, the Washington Post reports that the NSA and FBI have been "tapping directly" into the servers of nine of the largest American Internet companies through a secret program code-named PRISM.
According to the report, PRISM was established in 2007 and "the only members of Congress who know about PRISM were bound by oaths of office to hold their tongues," and were thus unable to publicly voice opposition. Through the program, the government has allegedly been able to extract audio, video, photographs, e-mails, documents and connection logs — all of which can enable one to track a person over a long period of time.
The WaPo report is based on an "internal presentation" intended for senior analysts in the NSA's Signals Intelligence Directorate. The slides, according to the newspaper, claim that "'NSA reporting increasingly relies on PRISM' as its leading source of raw material, accounting for nearly 1 in 7 intelligence reports."
The tech giants whose servers are tapped by the NSA "participate knowingly" and reportedly include: "Microsoft, Yahoo, Google, Facebook, PalTalk, AOL, Skype, YouTube, Apple."
The companies receive a "directive" from the federal government requesting access to their servers. In 2008, the WaPo reports, Congress gave the DOJ authority to force a reluctant company "to comply." Apple apparently resisted cooperation for several years, though the details are unknown.
Read the full report here.
UPDATE: A number of sites involved in this program have issued statements denying they were complicit about what the NSA was doing.
— —
>> Follow Andrew Kirell (@AndrewKirell) on Twitter
Have a tip we should know? tips@mediaite.com