Last Call: Where Was 50 Shades of Chicken When Julia Child Was Roasting Birds?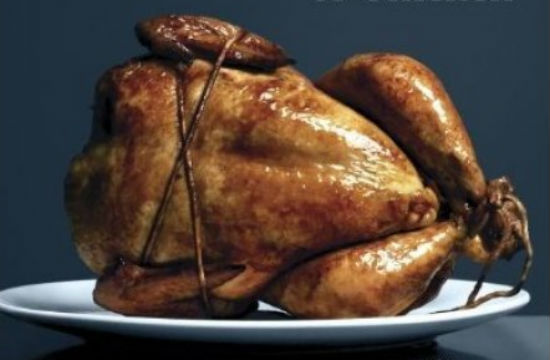 Huffington Post: We've been avoiding it all day, but, oh fine, we'll acknowledge the existence of the upcoming cookbook 50 Shades of Chicken. If somebody hooks us up with an advance copy, we promise to compose an essay comparing and contrasting it to Comfort Me with Offal as reflective of its era.
Food and Wine Magazine: What does a cocktail called "The Crushed Nun (Light on the Veil)" taste like? Check out the cocktail/exhibit pairings at the MoMA's bar The Modern to find out. (Of course it contains absinthe; it's part of an art exhibit.)
USA Today: Did you do a private happy dance when Chick-fil-A quietly announced that it would pull its support of notoriously anti-gay groups and embrace patrons of all sexual identities? Well all the people on the other side of the fence are McPissed that Chick caved on their so-called Christian principles, and ranting about it on Facebook. Enjoy!
Eater: Tom Colicchio is tired of Chris Cosentino's reputation for being the badass meat guy. He wants in on the game! At least, that's the only explanation we can come up with for why he's opening a meat-centric resto in Las Vegas to complete his Sin City trifecta of 'wichcraft and Craftsteak. According to the press release, the new restaurant will feature "meats prepared entirely over an open flame — from wood-burning ovens to charcoal grills." Translation: you'll never not smell like barbecue again after setting food inside.
New Zealand Herald: Do you have any idea how easy it is to erect a Momofuku pop-up restaurant? Step one: purchase David Chang's cookbook. Step two: make a bunch of baos according to the recipe. Step three: sell the baos under a sign that says "David Chang's Famous Momofuku Baos Sold Here At Momofuku Pop-Up Restaurant." If this guy from Australia pulled it off, why can't you? Oh, you'll probably get sued, though, 'cause…you know…that's what's happening to him.
Craigslist: What are scalped 21st Century Ltd tickets going for on Craigslist these days? Somewhere around $3000. We shake our fists at rich people things.
Have a tip we should know? tips@mediaite.com