Maine Bakery Renames their Version of the Cronut the "C&D," Cease and Desist Pastry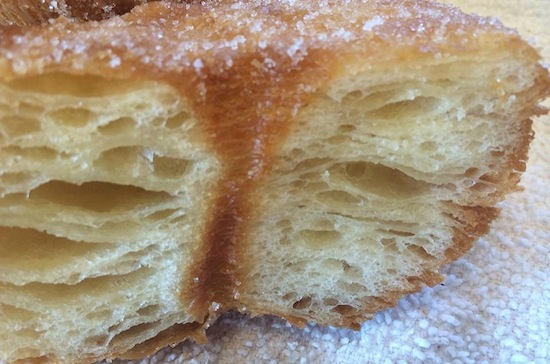 Don't think the Cronut® team won't come after you, all you knock-offs. Because they will. And serve you cease and desists when you call them Cronuts when they're not officially Cronuts®. But we sure do appreciate Little Bigs Bakery's sense of humor when slapped with a cease and desist.
The bakery, which got the official cease and desist letter from the Dominque Ansel Bakery, went to Facebook to ask patrons to help rename the pastry. And yes, now it's called a "C&D" — a cease and desist pastry. For the win! Said owner James Plunkett to local news station MWTW, "We kind of looked at it as a badge of honor. We felt like we got, a guy in New York City recognized that a tiny little operation like Little Bigs here is South Portland, so it was kind of fun. We took it as a moment of pride."
And yes, the C&D is just as hard to get as an actual Cronut®. The bakery only makes 120 on Sundays, and there is a waitlist. (So much more dignified than waiting in line.)
Other bakeries that have been slapped by the Cronut legal team: DK's Donuts and Bakery in Santa Monica, Calif.; Gertrude's in Baltimore; and Ba Bar in Seattle. Ansel, let's be real: if it looks like a Cronut and smells like a Cronut, it is most likely basically kinda sort a Cronut.
[WMTW]
RELATED:
Eff Cronuts, Give Us the Cookie Milk Shots
Dominique Ansel Knows the Cronut Will Live On FOREVER
Dominique Ansel Brings Cronuts to LA; Are You Happy Now, LA?
Have a tip we should know? tips@mediaite.com