WATCH: Mario Batali Accused of Being Part of 'Subversive Fringe' in Letter from Meat Council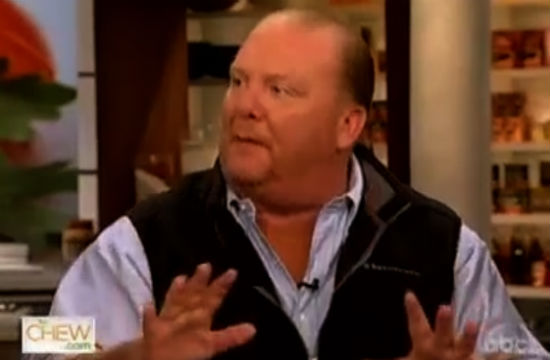 Today, like every other Monday on The Chew, was Meatless in nature, per the hosts' dedication to saving the environment, the economy, and your health by eliminating meat from your diet for one day a week. It really does have a remarkable impact on all three! Plus, vegetables are delicious! So many benefits!
But there is one group who doesn't care about your heart health, or risk for diabetes, or the environment, and that group is the "National Meat Council." Now, meat trade organizations are pretty notorious dissenters of "Meatless Mondays." This one time, they totally bullied the USDA into revoking their support of it on their site and in their cafeterias.
And after The Chew started doing Meatless Mondays, Mario Batali himself received one of these threatening letters, accusing him of "being a part of the subversive fringe." We are not kidding.
"They got a little angry with it, and I think now they realize it's not stopping people [from eating meat]," he conceded. "It's suggesting you think about what you eat."
We think he's being kind. Dear Batali and Team: those intrepid (and really, very pretty) journalists you spot digging through your trash are just us, hunting for this letter to publish in its entirety, because it sounds hilarious. Don't be alarmed!
RELATED:
USDA Pulls Support Of Meatless Mondays Program After Heat From Cattleman's Association
WATCH: Stephen Colbert Calls For Ethical Treatment Of Produce In Response To Meatless Mondays
NY Post Critic Slams Sustainable Chefs, Calls Mario Batali A Hypocrite
Have a tip we should know? tips@mediaite.com