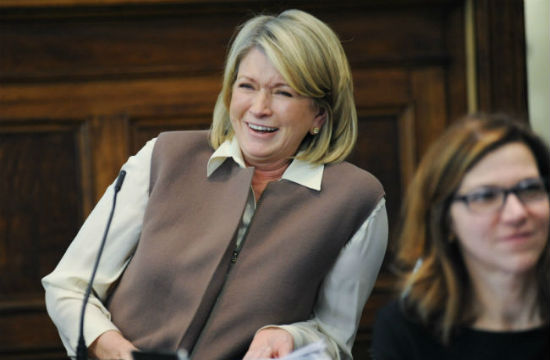 After many, many months of arguing over who got to sell Martha Stewart's stuff, Martha Stewart Living Omnimedia and Macy's have finally agreed to settle their lawsuit for an unspecified sum of money, and mutually decided to go back to the lucrative business of selling towels and enameled cookware.
USAToday reports that Stewart, who went on trial last year for allegedly breaching her exclusive contract with Macy's and cheating on them with J.C. Penney, decided to settle with Macy's due to her company's continuing malaise:
Martha Stewart is looking to boost merchandising sales as it continues to grapple with a weak publishing business amid sluggish advertising sales. In October it said its quarterly net loss narrowed, though revenue fell 22% to $33.8 million, hurt by weakness in its broadcasting and publishing divisions.

Macy's, meanwhile, has been seeing strong sales. In November it said quarterly net income rose 22% will revenue rose 3 percent to $6.28 billion.
So basically, she got back together with the rich dude.
The loser in this transaction: J.C. Penney, which has been losing a lot of money lately, too, making MSLO's abandonment especially harsh. To top it off, Macy's still plans on suing the living daylights out of J.C. Penney for stealing their Martha.
RELATED:
Martha Stewart Bans JCPenny From Doing Business With Everyone She's Ever Hated
Macy's Takes Martha Stewart To Court For Selling Enameled Pots To JC Penney
Judge Tells Martha She Can't Sell Her Stuff With JC Penney, Macy's Does A Victory Lap
Have a tip we should know? tips@mediaite.com