More Fast Food Strikes Planned As President Obama Pledges Support for Workers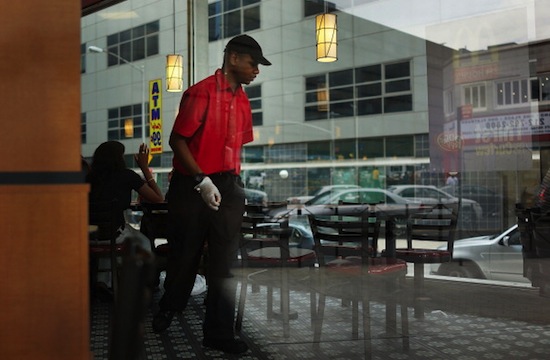 The tides are a-changin' for fast-food workers, as more strikes and protests are planned for Thursday across the country.
More than 100 cities across the country, and organizers are planning for some serious civil disobedience, reports the New York Times. It's not quite clear what these protests might look like, but it may include sit-ins; it comes after more than 1,300 fast food workers unanimously voted at a convention to put more pressure on fast-food chains by using civil disobedience. Said one Burger King employee to the NYT, "On Thursday, we are prepared to take arrests to show our commitment to the growing fight for $15."
Meanwhile, President Obama used the Labor Day holiday as a reason to throw his weight behind fast food workers' cries for higher pay — and even the right to unionize. He said in a speech in Milwaukee on the holiday (from Gawker):
"All across the country right now there's a national movement going on made up of fast-food workers organizing to lift wages so they can provide for their families with pride and dignity … if I were looking for a job that lets me build some security for my family, I'd join a union. If I were busting my butt in the service industry and wanted an honest day's pay for an honest day's work, I'd join a union…I'd want a union looking out for me."
Gawker also notes that unionizing may be a long ways off but hat the effort to unionize has brought some significant changes in McDonald's policies and overall support from consumers.
It's unclear how chains will react to the planned protests, but history might tell us that it may not go over well. Still, things are changing — more notables in the industry (like Eater's EIC) are coming forth to call for pay raises and better working conditions, and California even just became the second state to legalize paid sick leave (hurray!). After all, the average restaurant worker makes only $10 an hour, compared to $18 per hour outside of the industry.
RELATED: New Study Confirms What We Already Knew: It's a Hard Knock Life for Chefs and Restaurant Workers
Eater's Editor in Chief Calls For Real Change in Restaurant Industry (and Not Just Reservation Apps)
"Sarah Palin Thinks Purgatory is Vegan, No Place To Discuss Minimum Wage Increases
Have a tip we should know? tips@mediaite.com