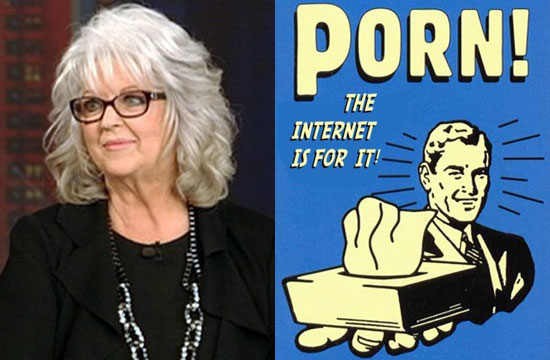 Last night we slogged through Paula Deen's deposition — you know, the one where she defends her use of the "n-word" and dreamed of a Southern plantation wedding catered by black men dressed as slaves — and found that it does, indeed, get worse. (Or better, depending on what end of the moral spectrum you come from. Moral relativism!)
The lawsuit, filed by a former employee alleging that Deen and her brother Earl "Bubba" Hiers committed many acts of sexual and racial harassment that the 1965 Civil Rights Act would not condone, included the charge that Bubba would often show pornography to his unwilling female employees.
Deen alleged that her accuser, Lisa Jackson, made up the story, and even claimed that Jackson had shown lesbian pornography to her subordinates, too — but admitted that "if somebody sent [Bubba] something and he pulled it up and looked at it, no, I would not persecute him for that."
The Spanish-ish Inquisition pressed forward:
Q What if there were other employees in the office at the time that he pulled it up and looked at it?

A: You know, that's not black or white. It's — that's — it's not a black and white answer.

Q: So it's okay sometimes to look at pornography in a workplace in the presence of other employees?

A: No. [Her lawyer objects] Bubba, I don't think, would do that if he thought there was somebody in the room that he — it would insult.

Q: Okay. What would it take to convince you otherwise?

A: Bubba would never force somebody to read the crap that comes up on that computer.
Resident pornography expert Mariella Mosthof weighs in:
"Looking at pornography yourself and forcing it upon people who don't want to look at it are two different things. As long as you have a private office with a lock on it, you're otherwise doing your job, and you aren't greeting co-workers with untoward erections if and when interrupted, do you. All she's saying is, if somebody sent HIM something, and he wants to look at it, he shouldn't be persecuted for that alone, which in and of itself, I agree with. But it also shouldn't come to light, and he should keep that s*** on discreet."
Then again, "sex" and "discretion" never did go together so well for Paula Deen. We imagine this quality would be amplified for any Deen with a penis.
RELATED:
TMZ Obtains Paula Deen's 'N-Word' Transcript, Her Lawyers Respond (UPDATED With Full Transcript)
9 Other Colossally Stupid Paula Deenisms
Paula Deen Defends Use Of 'N-Word', Wants Black Employees To Dress Like Slaves
[h/t The Daily Beast]
Have a tip we should know? tips@mediaite.com