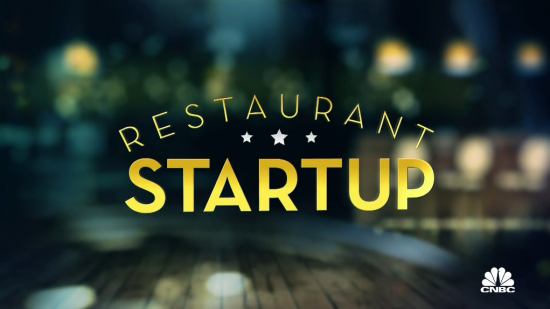 Last night's episode of Restaurant Startup featured two concepts from Miami, and once again, Joe Bastianich, and Tim Love. What happened to Elizabeth Blau? Was that just an experiment? A temporary thing?
The first group team we meet consists of Robyn Almodovar and Stefani Olshan, business and life partners, who are seeking $200,000 for a 45% stake in S&R Eatery, a restaurant they're hoping to launch in San Diego. If you watch a lot of cooking shows, you may recognize Robyn. She's won both Chopped and Cutthroat Kitchen, and has appeared on Hell's Kitchen. Currently, they operate a food truck in Miami called Palate Party, which was named best food truck in South Florida in 2013.
Joe and Tim try the food and to be honest, it looks weird. They blow up this odd-looking mozzarella ball for one of their dishes and according to Tim and Joe it tastes pretty much as bizarre as it looks. Also, while Stefani and Robyn work well together as a couple, as business partners things are trickier. Robyn clearly runs the show while Stefani barely understands the menu.
Next, we meet Jeremiah Bullfrog (I cannot imagine this last name is real, but if it is, WAY TO GO, Jeremiah's parents!) and his wife Carla, who own gastroPod in Miami. They run a successful food truck and recently opened a second location in a mall in the super cool Wynwood Arts District. They have a third location in the works already, but the problem is that by the time they got the second one open they had run out of money. They're seeking $250,000 for 30% equity in the new spot.
The food is outstanding, plus they have a proven concept. They're only trying to duplicate what's already working. Jeremiah mentions that he has a temper and that he used to throw things sometimes, but that now, he's very well behaved and professional. The choice seems obvious, and it is.
Tim and Joe pick gastroPod. The path to an investment involves being able to create a manual that they could theoretically drop into any location, and then sit back and let the restaurant go.
Antonia Lofaso gets to the pop up and Carla and Jeremiah are very ill prepared. Antonia and Jeremiah get into kind of an irritating screaming match, and Antonia says she can't believe they didn't get to the show more prepared. Now I see that temper Jeremiah was talking about.
They set goals of 10 minute ticket times, and check averages of $14.50. Antonia thinks they can get it to $19-$20. Launch day has arrived, though, I don't understand why we call it launch day since they open the pop up for one day only. I'm starting to realize I don't understand a lot about this show, but more on that in a bit. Tim and Joe like the inside a lot. It looks like it could git into any mall or airport, and that's a good thing in this case. The plan is for gastroPod to deliver chef quality food at an accessible price point in places like these. The help is only okay, and Max is definitely a weak link, but to be honest, given the amount of time they've had they're all doing a pretty great job.
The diners are all enjoying the food, and it's arriving quickly which is impressive given how busy it is. Tim and Joe decide this would be an ideal time to force Jeremiah to stop working and have a beer with him. The problems I have with this are INFINITY-FOLD. I will list two:
1. The restaurant is insanely busy. Why are you eliminating one worker, our of only a few workers, and expecting everything to run the exact same?
2. How do you expect the temporary help to be well trained enough to run a pop up business that has existed for about 24 hours all on their own?
Somehow, the beer goes okay. It's time for Tim and Joe to test it out themselves. They're really enjoying most of the food, and after their burgers, it's time for a pasta course. Joe proclaims that the entire investment depends on pasta. What? We get it. You're an Italian chef. But this isn't an Italian restaurant. If anything, it's kind of a burger joint. Plus, you've said over and over again that the investment depends on how well they can write a manual and train employees. In any case, the pasta is great.
It's time to get to negotiations, and there is definitely too much time left in the episode for this. Something's about to go down.
Diner Survey Results:
93% of diners liked the food.
The burger was the most popular item. TAKE THAT, Joe.
99% of diners were happy with service.
The manuals were successful, and the restaurant seems like a concept they can definitely duplicate. Let's get down to the nitty gritty.
The ask: $250,000 for a third location. The investor would have a 30% stake in the new spot.
Here's where things start to unravel. Jeremiah reveals that thins have slowed down at the food truck, because sales fell off when they opened in the mall. They took all the attention away from the thing that was going well, and looking at sales, they're dead. He also says that 15% of the sales they do have go to rent. This is an incredibly poor choice. They also have a business partner. Pablo. Currently, Pablo owns 49% of their enterprise, and Jeremiah and Carla owe him $120,000. It's now incredibly clear that while Jeremiah and Carla deliver an excellent product, they're very bad business people.
Tim and Joe are, of course, not going to invest in a third location of gastroPod.
The Offers:
Joe: $120,000 in cash to buy out the partner, and Joe will take the place of that partner. If Pablo agrees to take the money and walk (which, if Joe Bastianich is offering you NO MORE money than you invested for something, why would you ever do that?) they can look at next steps.
Tim: He "sees himself" (can we stop using that phrase) in them, and says he'll go in on Joe's offer with him and put up half the money.
They accept the offer and they drink wine and also take shots.
Unfortunately, that's where it ended.
Currently:
Tim and Joe did due diligence and decided that investing was too risky. Jeremiah and Carla closed the mall location of gastroPod and have put expansion plans on hold.
See you next week!
Have a tip we should know? [email protected]