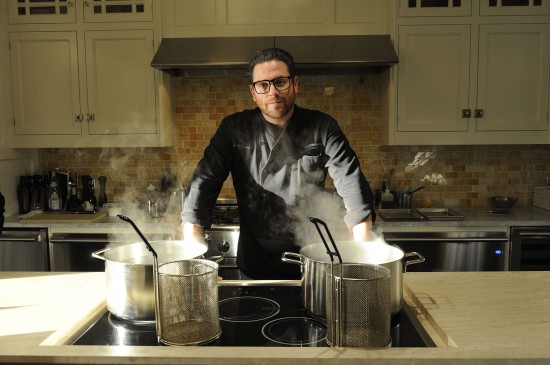 Scott Conant champions the simplicity of Italian cuisine and loves olive oil, crushed red peppers, and garlic. Tapioca maltodextrin is a completely different story.
"I don't understand the whole powder thing," the owner of Scarpetta and host of Food Network's 24 -Hour Restaurant Battle told The New Potato in an interview. "It makes for a great presentation but as far as creating flavors, I'm not so sure."
(…But what if you combined the olive oil with the maltodextrin to create olive oil powder?)
Other than the peeve with maltodextrin, Conant generally is a voracious eater, listing everything from fried chicken to sushi to his wife's Turkish cuisine as points of inspiration. In particular, he tries to go to places that sound "interesting and different", and even a bit unexpected: on a recent trip to Tokyo, he said, "I dined at Italian restaurants where Japanese chefs had worked in Italy for extended periods of time."
He also revealed that he'd love to work with wd~50's Wylie Dufresne, and wants to challenge his longtime friend Geoffrey Zakarian on Iron Chef America, "just so he can make fun of me after he beats me terribly." He'd work well with bread as the secret ingredient, but, like pretty much every non-Southeast Asian, would dread having to work with durian.
And to people hoping to open up their own restaurant one day (and maybe, just maybe, becoming a celebrity chef in the meantime), he offers some extremely practical advice:
There's something about opening a new restaurant and then at the end of a very long day, it always happens that you sit at the bar and you drink the night away talking about how to make the restaurant better. Then, you wake up a mess in the morning. My advice is to resist sitting at the bar and perhaps, not hold meetings involving alcohol.
This advice is probably applicable to any industry or endeavor, really.
Have a tip we should know? [email protected]