That Yum Brands Banh Mi Sandwich Shop is Coming, and It's Already Killing Us Slowly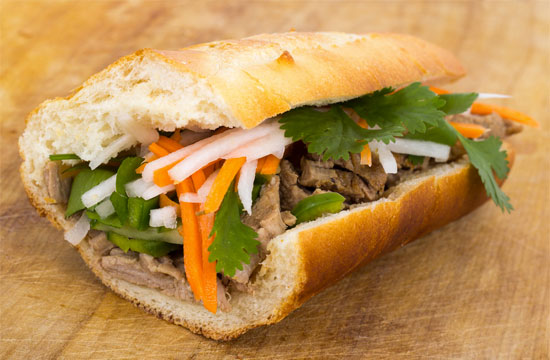 Remember how we couldn't believe that Yum Brands (parent company to Taco Bell, Pizza Hut and KFC) was testing the Vietnamese fast-casual Banh Shop? Our nightmares have come true.
The first outpost of Banh Shop is opening Friday in Dallas, and we already can't believe our eyes. The good news first: Eater reports that Yum Brands worked with local Asian chefs Braden and Yasmin Wages, of Malai, to put together the menu — so we assume it won't be as terrible as we think it might be. If we're to believe Eater's descriptions of the food, it's OK:
The menu includes grilled pork meatball with Vietnamese caramel glaze and cilantro aioli; the American, with ham, salami, and mortadella; a grilled tofu version with chili-coconut glaze; and one with grilled steak and eggs for breakfast. There's also a fun twist on elotes topped with "Saigon sauce" (coconut milk, butter, and nuoc mam) and green onions, red pepper, and cheese. Soups, salads, and "Wok'd Bowls" fill out the rest of the menu.
We've never seen "wok'd bowls" on any authentic Vietnamese place, but moving on.
Oh, but let's check out that menu, shall we? What's that we see? VIETNAMESE-STYLE CHICKEN SOUP?!
That's right: Foodbeast pointed out to us that instead of calling pho what it actually is, Banh Shop has to Americanize the shit out of pho and dumb it down. Then again, Yum Brands did the exact same hipster nonsense with the upscale Taco Bell, U.S. Taco, so how could we expect anything less than that?
Give us one of those ginger margaritas, people, we're going to need it.
RELATED: No No No No No: Taco Bell Parent Company Reportedly Testing Banh Mi Concept
Taco Bell's Fancy Taco Restaurant Has Craft Sodas, Lobster Tacos, Steak 'Fritas,' And We Feel Weird
Have a tip we should know? tips@mediaite.com