116 Days: For the Clinton Campaign Press Corps, Formal Press Conferences Are a Foreign Concept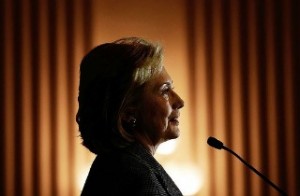 116.
That's the number of days since Hillary Clinton has held a formal press conference. And since it's March Madness, here's your context on just how long 116 days is: You can play the entire NCAA tournament — 68 teams down to one win winner — nearly six times in 116 days. Or… one could drive across the United States in 116 days. 29 times.
Mrs. Clinton did take questions in what can best be described as a pseudo-presser 28 days ago (March 1) at a coffee shop in Minnesota, but the session only consisted of a handful of questions and was relatively brief overall. Some may count that as a presser (or gaggle), but without a podium and at least five minutes of Q&A, it's not what one could tout as an official press conference. So yes, it's been quite awhile since the Democratic frontrunner (in some polls, but certainly not all) and superdelegate juggernaut has provided her traveling press corps true access. Here's how Monica Alba of NBC News described her lack of openness on the trail on February 29th:
In the three months since (her last press conference), Clinton has held hundreds of events across more than 20 states. She did not formally answer questions from her traveling press corps once during that time.

As a result, reporters bombard Clinton on the rope line in the hopes of having a question acknowledged. That rarely happens amidst the incessant selfies and Secret Service officers keeping cameras at a distance. Organizers also tend to blast music after Clinton's remarks so–in the rare event that she does answer a question–it's hard to hear her response.
And that's just the way it goes when attempting to coast to the nomination despite a relatively slim lead in the pledged delegate count (just 268 on that front) and losing the last three states that voted over the weekend (Washington, Alaska, Hawaii) by an average of more than 50 points. 50. The fear of Hillary's handlers, of course, is that a majority of questions at such a presser will not focus on her plan to fight ISIS, fighting for the middle class or fighting a tireless Bernie Sanders in the primary, but instead on the FBI Primary. The L.A. Times reports that the bureau will be questioning Mrs. Clinton soon as sources tell the paper the bureau may be nearing the end of its investigation. Whether this will result in a recommendation for indictment is anyone's guess…
But despite all of this, Ron Fournier of National Review may have this pegged correctly, as explained on MSNBC's Morning Joe Monday morning: "Legally, though, there's a big bar that you have to get over to prosecute anybody for these crimes, much less somebody who's running for president, Fournier explained. "And as critical as I've been of Hillary Clinton, and I am very critical of Hillary Clinton, I do understand that when somebody is running for president, there is a higher bar you have to get over, because we can't have a system in which we're constantly charging people who are running for president with a crime."
So until or if Clinton is officially cleared – and that's a big if — you can bet that no traditional press conferences will be forthcoming for the risk averse former Secretary, who won't even debate Mr. Sanders on her 21st Century home turf (her third home state, New York) until — as Clinton campaign spokesperson Joel Benenson put it — the confrontation-averse Bernie adopts a nicer tone towards his political opponent.
Benenson on CNN Monday:
"The debates have been very good, but Senator Sanders doesn't get to decide when we debate, particularly when he's running a very negative campaign against us. Let's see if he goes back to the kind of tone he said he was going to set early on. If he does that, then we'll talk about debates, but we're not going to talk about it."
Call me Captain Obvious, but if Team Clinton thinks Bernie is being mean, just wait until what Donald Trump has in store for the general.
We hear much, much more about the mess over on the GOP side because of the sensational nature that comes with the recent tabloid campaign emerging in the war over wives between Donald Trump and Ted Cruz. But give the billionaire and Texas Senator credit for constantly being out in front of the press and answering questions, even as ridiculous as the subject matter has become. Trump particularly can't seem to go 116 minutes without doing a national interview, let alone 116 days. And if you're looking for a Trump-Clinton general election preview from a media accessibility perspective, absorb this scenario from last week:
Almost immediately following the Brussels attacks, NBC's Today Show reached out to Trump (who was already pre-booked on the program) and Hillary to see if they wanted to comment on what just happened in Belgium live. Trump reportedly didn't hesitate and agreed to do so via phone, as he often does. Mrs. Clinton declined. Trump proceeded to do the interview, reiterating his call for tighter borders, increased waterboarding and stepped-up bombing of ISIS in Syria and Iraq. Only after Trump was finished did Clinton – who isn't used to doing interviews in any environment calling for spontaneity – agree to comment. It was a telling moment, because say what you will about Trump's worldview or temperament, the man is fearless when it comes to anytime, anywhere interviews regardless of outlet.
The same can't be said for the calculated-to-a-fault Hillary Clinton. 116 days, one semi, unofficial press gaggle to show for it. The real-life Claire Underwood may have done her share of interviews with some journalists and hosts during that time, but taking questions from the very reporters covering her every move is another matter entirely. And until the FBI Primary is complete or underway, getting answers to questions on the campaign trail will be laughed off as just one of those crazy things of the past.
— —
Follow Joe Concha on Twitter @JoeConchaTV
This is an opinion piece. The views expressed in this article are those of just the author.