NY's Gov Cuomo Banned All 'Non-Essential' State Travel to NC After Anti-LGBTQ Bill Signing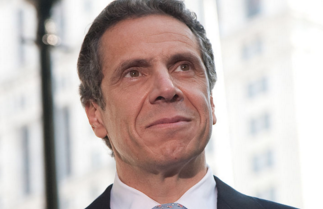 In a move that North Carolina's governor Pat McRory is calling "political theater" along with the rest of the opposition to his latest bill signing, New York's governor Andrew Cuomo and New York City's mayor Bill de Blasio have both moved to ban "non-essential" state travel to North Carolina.
As long as the law in North Carolina creates grounds for discrimination against LGBT people, I am barring non-essential state travel to NC.

— Andrew Cuomo (@NYGovCuomo) March 28, 2016
The executive order was released to Cuomo's website yesterday and is a response to McRory signing a fast-tracked bill that repealed every local piece of legislation in place to protect LGBTQ+ people and mandated that they use the bathroom that corresponds with the sex they were assigned at birth. According to The Slot, the bill was voted on an hour after its introduction in the state's House and some lawmakers didn't even get to read it.
The executive order reads like this:
Governor Andrew M. Cuomo today signed an executive order banning all non-essential state travel to North Carolina. The order requires all New York State agencies, departments, boards and commissions to immediately review all requests for state funded or state sponsored travel to the state of North Carolina, and bar any such publicly funded travel that is not essential to the enforcement of state law or public health and safety.

The ban, which takes effect immediately, follows North Carolina's enactment of a law which bars transgender individuals from using restrooms appropriate for their gender identities, excludes sexual orientation and gender identity from state anti-discrimination protections, and prohibits municipalities from extending those protections to LGBT citizens.
Cuomo and de Blasio's ban is reminiscent of the threats made by companies like Disney and AMC to Georgia this week when the state's governor was considering signing a bill that would protect citizens' rights to discriminate against the LGBTQ+ community on religious grounds. Over 20 companies threatened to boycott the state and it worked: the governor vetoed the controversial bill. Further, Cuomo has done this before. In 2015, Indiana had passed a similar bill that he, like the governors of Washington and Connecticut, thought protected citizens who wished to discriminate against anyone identifying as LGBTQ+. They all signed executive orders banning state-funded travel to Indiana. Once the law was amended to protect LGBTQ+ people, Cuomo reversed his order.
McRory has been tweeting and giving interviews about his support for the bill, so it doesn't appear that North Carolina will follow Indiana's lead anytime soon.
[image via WikiMedia Commons]
For more from Lindsey, follow her on Twitter.
Have a tip we should know? [email protected]