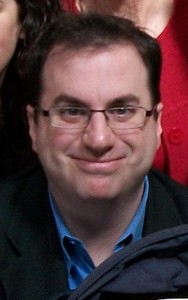 New Jersey residents already know that the Newark Star Ledger, Tony Soprano's paper of record, is also the home of TV critic extraordinaire Alan Sepinwall, while internet users know him from his terrific blog, "What's Alan Watching?"
As of today, though, Sepinwall's TV columns and prolific blog entries will be available to everyone, all in one place, HitFix.com. To mark the occasion, we fired him our 5 Quick Questions.
I grew up reading The Star Ledger, and when Alan joined the paper 14 years ago, his column quickly became my favorite. I found myself reading them even when the subject matter was of no interest to me, because the guy can just flat-out write.
His TV blog, however, really takes things to 11. He offers wall-to-wall coverage of insider TV events like the network "upfronts," but the bulk of the blog is made up of reviews and episode recaps that combine synopsis with incisive commentary. The episode recaps are often better than the shows he is critiquing, and he participates in lively talks with a large, smart community of commenters. Best of all, perhaps, is a "no spoilers" policy that would make Ziploc envious.
If  you like TV at all, you should follow Alan Sepinwall to HitFix. New Jersey residents, you'll still find Alan's columns in the Ledger, but check out the blog, anyway.
OK, sales pitch over. Here's Alan's 5QQ:
1. How do you get your first TV news of the day?
Twitter. Either the people I follow will have written about the latest developments, or they'll link to the people who have.
2. Either, Or (you gotta pick one!):
Arrested Development or Firefly?
Arrested. I love Firefly, but I'll take Buster's hook-hand and Tobias the analrapist over Jayne's grunts.
Caruso, Smits, Schroeder, or Gosselaar?
Caruso. Easy. Smits a better actor, but Caruso had the best-written character of the four, and back before he turned into a parody of himself he had ridiculous charisma.
And I know of which I speak when it comes to NYPD Blue.
(Please forgive the circa 1995 web design. I was young and stupid and trying to do the HTML coding myself.)
Omar Little or Arthur Fonzarelli?
Omar. Are you crazy? Shotgun beats thumb, every time.
Family Guy or lemon juice in your eyes?
Family Guy. At least I occasionally laugh or smile at a reference from my childhood. No upside whatsoever to lemon juice if seafood isn't involved.
3. What's the biggest story the TV media has missed this year? (Or last week):
Pretty much every story that doesn't involve Conan or Jay. It's amazing how many barrels of ink and bytes of information were devoted to covering two guys fighting over who gets to topline an outdated format.
4. Obligatory Twitter Question: Describe yourself in 140 characters or less (hash tag optional!).
Found a way to turn a misspent childhood and an obsessive-compulsive relationship with TV into a career.
5. Are you nervous or excited about the future of TV Journalism? Why?
I've spent the last 14 years amazed that people have been willing to pay me a livable wage to watch and write about television. That I've now found a second place willing to do so makes me a little less concerned. Lots of information is out there for free, but the hope is that the best stuff is still worth paying for. And that keeps me from getting lazy.
Have a tip we should know? tips@mediaite.com