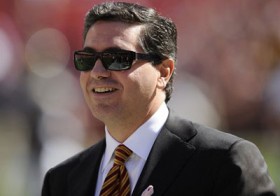 Daniel Snyder, the owner of the historically revered Washington Redskins, does not have the best reputation amongst his hometown fans and media.
Ever since he took over the team in 1999 they've had a losing record. This is thanks, in large part, to a revolving door of high-priced coaches and players, as well as the standard organizational mismanagement that plagues most mediocre sports franchises in America.
Amidst the turnover of personnel, Snyder has been the only consistent face of the Redskins brand. In turn he has become, fairly or unfairly, the personification of what has been consistently and routinely wrong with the Redskins for the last ten years.
Add to that the fact that he makes a killing on the team that is generally pretty bad, and you begin to forget the "fairly or unfairly" part. His power suits, finger gunning ("No, you're the man!"), and general Jerry Maguire-ness only confirm what you probably already knew: Dan Snyder is easily and instantly unlikeable.
Now, a new report involving a Redskins cheerleader, her Marine boyfriend, and the team's NBC broadcast partner threaten to make the Redskins look, at best, fundamentally dumb, and at worst, awfully callous.
First watch the video below, which shows the reunion between Lt. Denver Edick and his wife, Kristin Edick:
Sweet, right? Yes, super sweet. But the story behind how NBC's Washington affiliate got ahold of the story?
Not so much
:
[Because] Lt. Denver Edick's wife is a cheerleader for the Washington Redskins, the easy score turned into a turf battle in which ABC, the network that pitched the idea, wound up barred from FedEx Field, while the team handed the ball to the NBC station in town, which happens to be its broadcast partner.
Yes, the ethical implications of freezing out a station on a story because it doesn't show your games are iffy. But stuff like that happens all the time – broadcast partners are given preferential treatment by sports teams. What makes Snyder and the Redskins look really bad however, is this gem:
And the Redskins formed a defensive line against any other coverage. A news executive involved in the discussions says a Redskins official told him that if Kristin Edick talked to anyone from WJLA, the ABC affiliate, she would be dismissed from her cheerleading job.
Snyder has since apologized on behalf of the organization, and threatened to fire a whole bunch of people because of the mishap.
This comes on the heels of a rough week for the Redskins owner, who lost his entire equity investment in Six Flags amusement parks, and saw the retirement of his longtime "PR henchman" Karl Swanson. One would figure he could use Swanson right about now.
Have a tip we should know? tips@mediaite.com