Actress In Innocence Of Muslims Movie Claims She Was 'Deceived,' Original Script Was Not About Islam
Actress In
Innocence Of Muslims
Movie Claims She Was 'Deceived'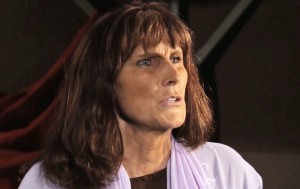 An anti-Islamic film has been getting quite a bit of attention today because of the anger it sparked throughout the Muslim world, which spurred the attacks on diplomatic compounds on Egypt and Libya. One of the actresses from the film, titled Innocence of Muslims, told Gawker in an interview today that she was deceived by the filmmaker about the movie's intent, and claimed that the anti-Islamic rhetoric was dubbed in later without the actors' knowledge.
RELATED: Trailer For Innocence Of Muslims: Film That Sparked Anti-U.S. Protests In Egypt, Libya
Cindy Lee Garcia spoke to Gawker over the phone earlier today and said she had "no idea she was participating" in a film that goes out of its way to spoof the life of Mohammed.
The script she was given was titled simply Desert Warriors.

"It was going to be a film based on how things were 2,000 years ago," Garcia said. "It wasn't based on anything to do with religion, it was just on how things were run in Egypt. There wasn't anything about Muhammed or Muslims or anything."

In the script and during the shooting, nothing indicated the controversial nature of the final product, now called Muslim Innocence. Muhammed wasn't even called Muhammed; he was "Master George," Garcia said.
For example, one line that was originally "Is your god a child molester?" was dubbed over in post-production to say "Is your Muhammed a child molester. The entire cast and crew of the film released a statement to CNN condemning the finished project, also claiming there were some "drastic re-writes" they were not aware of.
h/t Gawker
—–
Follow Josh Feldman on Twitter: @feldmaniac
Have a tip we should know? tips@mediaite.com
Josh Feldman - Senior Editor