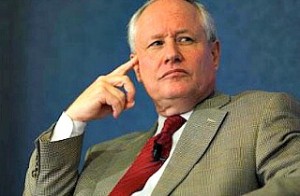 Over the Memorial Day weekend, Weekly Standard editor and unofficial figurehead of the #NeverTrump movement Bill Kristol tweeted that he was gearing up to make a game-changing announcement. "There will be an independent candidate," he wrote, "an impressive one, with a strong team and a real chance."
Just a heads up over this holiday weekend: There will be an independent candidate–an impressive one, with a strong team and a real chance.

— Bill Kristol (@BillKristol) May 29, 2016
Kristol never did get the opportunity to unveil the "impressive" candidate with the pomp of a live-broadcast presser as he might have liked. Just two days after that tweet, Bloomberg broke the story that Kristol had been courting National Review staff writer and attorney David French to run.
A few days after he had been plucked from relative obscurity, French announced on Sunday in National Review that he would not be running for president, but he made plain his belief that the nation was in dire need of an alternative to both Clinton and Trump. And he affirmed that "the path is there" for someone else to challenge them in a general election.
But who? Despite his well-known animus for Trump, Mitt Romney had resisted Kristol's several attempts to draft him, and, according to one report, even distanced himself from the effort to recruit an independent candidate. (Both Romney and Sen. Ben Sasse, another name Kristol often volleyed as a potential candidate, offered their support for French.)
So much for the "impressive" candidate — but what became of the "strong team"?
According to French, it's alive and well. He wrote:
I spent the last several days with some of the best minds in politics. I learned that the ballot-access challenge can be met with modest effort (by an existing network ready to activate), that the polling for a true outsider independent was better than most people know, and that there are many, many Americans — including outstanding political talents — who are willing to quit their jobs — today — to help provide the American people with an alternative.
However, the following day, National Review's Eliana Johnson published an account of the third-party effort and how the Bloomberg scoop scuttled several weeks of research and preparation from that team.
Johnson writes that during the brief period when French flirted with the idea of running, he had met with the team of conservative operatives prepared to make the "real chance" Kristol alluded to a reality. The group included John Kingston, a conservative donor from Boston, Joel Searby, a Florida-based Republican strategist, and Stuart Stevens, Romney's former campaign manager.
But when Bloomberg broke the story about French, "all hell broke loose," Johnson writes. (In the Bloomberg article, authors Mark Halperin and John Heilemann cited "[t]wo Republicans intimately familiar with Bill Kristol's efforts to recruit an independent presidential candidate" as their sources.)
Beyond the challenge of recruiting a candidate, any effort to mount an independent spoiler would be dogged by the problem of getting that candidate on as many state ballots as possible, an expensive, labor-intensive project that includes gathering hundreds of thousands of signatures in advance of rapidly approaching deadlines. (In at least two states, including the electoral vote-rich Texas, these deadlines have passed.)
Johnson writes that "It looks increasingly likely that the conservative resistance to Trump won't take the form of a third-party candidacy, and that the group's next project will be to find an effective way to protest Trump's rise — even if they can't arrest it."
And yet, on Thursday morning Kristol was still going at it, floating the idea of a ticket consisting of Ohio Gov. John Kasich and New Mexico Gov. Susana Martinez.
Wouldn't a Kasich-Martinez independent ticket actually win?

— Bill Kristol (@BillKristol) June 9, 2016
[image: Bill Kristol via Twitter]
Have a tip we should know? tips@mediaite.com