The Young Turks' Ana Kasparian Talks Independent Media, Sanders' Impact on America, and Millennials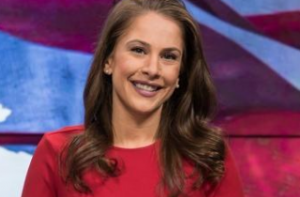 Ana Kasparian didn't always work in independent media. In fact, she started out at CBS and a few other more conventional news outlets, where she realized that her goal of being a journalist wasn't going to be as fulfilling as she'd assumed when she watched anchors arrive 15 minutes ahead of a broadcast and read a pre-written report.
"That wasn't journalism. There was no real value," she said in an exclusive interview with Mediaite.
Luckily, a friend told her about a temporary position with an independent company called The Young Turks. What she had planned to do for about two weeks has turned into almost a decade with the company, were she's now the co-anchor on the main show and host of The Point, another show on the network.
Her dedication to TYT is evident. Earlier this year, for instance, she was tasked with raising memberships. In March, there were around 5,000 members, and now, in June, there are 19,000. Members pay a fee for bonus content. Because of that success, Kasparian has set a goal of reaching 100,000 members by the end of the year.
.@AnaKasparian Bets @jiadarola @TheYoungTurks Reaches 100K Members This Year https://t.co/06BdI99xgN

— The Young Turks (@TheYoungTurks) May 31, 2016
She is working on the terms of the bet she made with John Iadarola. They're deciding what task she'll have to complete if that goal isn't met, but given that most of the viewers of TYT are men, she was careful to insist that, "We haven't come up with the terms yet but we have to come up with something that doesn't encourage people not to sign up… "
In fact, the current male dominance of the audience is one of the few things about independent media that could cause a little alarm under the right circumstances. When asked if there were any drawbacks to the one-on-one sort of feeling that Kasparian and her colleagues are able to provide to their online viewers, she recalled a time when, after a public event, a man ran at her and tried to kiss her. He, like many others, thought he knew her just because he watched her every day.
"I freaked out. I was caught off guard and pushed him away," she said before reasonably explaining, "That's par for the course when you become a public figure. I've always wanted to do what I'm doing for the news but I hate the idea of being some sort of celebrity."
Like her co-hosts, Kasparian is a celebrity in a way. TYT has become a massive force in media. Two summers ago, the TYT Network hit 2 billion video views, so their claims of being "the world's largest online news show" is no joke. They have fans all over the place. In fact, in the interest of full disclosure, I can tell you that when I went to a TYT event earlier in the year for work, a friend of mine texted me out of nowhere to see if I could get her a t-shirt. I hadn't even known she was familiar with the network, but was informed that not only was she familiar, but that she tunes into the main broadcast every night.
Still, for all of their ever-increasing popularity, there remain disadvantages to working for the independent channel. Kasparian lamented a lack of resources and funding, saying she would love to have more correspondents on the ground. She also mentioned that for a long time, they weren't taken as seriously as the larger news corporations, but she's seen that perception of independent news evolve in her time at TYT. She explained that by saying, "I think that thought process is really changing. I've noticed a complete shift during the election coverage."
Ah, yes. Election coverage. One thing TYT is known for is its outspoken hosts. Without any corporate affiliations to keep in mind, they are allowed — nay, encouraged — to share their true feelings, which they've been doing throughout this entire election. Generally, they've all been vocal supporters of Bernie Sanders, though Kasparian was quick to point out that there is no mandate telling them who to support. It just so happens that everyone there feels the Bern.
Or, rather, they did. Obviously, in the last week, it's become more apparent that Hillary Clinton will be the nominee. Kasparian said that while the chances of him getting the nomination were "slim," his message of support for the disenfranchised was vital and will move the party and country forward regardless of if he is in the Oval Office.
When it comes to Clinton, she was slightly less charitable, but didn't rule out voting for the former Secretary of State. She said, "Some of us [at TYT] believe that hey, you know, Hillary isn't great but Trump is worse. I'm really on the fence as to whether I'd vote for her but after the whole ridiculous scandal with Bernie supporters brandishing a chair, I can't do it. They hit below the belt. I don't know if I could vote for Clinton."
After being pressed to name three good things about Clinton, she halted, then said this:
I'm sure I can. Maybe three thing would be difficult but I do like the fact that she wants to give a voice to women. I do like that she inspires women to be career-oriented and shoot for the stars. Every other issue, she's pretty much flip-flopped on … It's hard for me to pick other specific issues because she's done some pretty shady things.
She doesn't know what the future will look like as far as her voting goes, but she is still optimistic about the future of the country in general.
"When it comes to the Democratic party, all you need to do is look at the ideology of Millennials," she explained. "I think Millennials are more progressive, more socially progressive, much more concerned about economic issues that impact the poor and middle class, and so that basically shows me that the Democratic party will have a bright future."
[image via Sunshine Sachs]
For more from Lindsey, head to Twitter or Facebook.
This is an opinion piece. The views expressed in this article are those of just the author.