After Denouncing Goldman Sachs on Campaign Trail, Trump Considering President for Top Post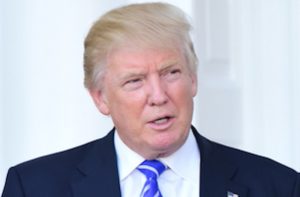 After months of denouncing a major global investment bank on the 2016 campaign trail, President-elect Donald Trump is reportedly considering its president for a top position in his administration.
Politico broke the news Wednesday that Trump is considering Goldman Sachs President Gary Cohn for his director of the Office of Management and Budget, citing multiple sources. Cohn has given large sums of money to both Democrats and Republicans and "is friendly with Trump's powerful son-in-law, Jared Kushner."
Trump frequently invoked Goldman Sachs in his attacks on both the general election and primary opponents. In the primaries, Trump took particular aim at the fact that Senator Ted Cruz failed to disclose a donation from the bank during his Senate run.
Was there another loan that Ted Cruz FORGOT to file. Goldman Sachs owns him, he will do anything they demand. Not much of a reformer!

— Donald J. Trump (@realDonaldTrump) January 16, 2016
Cruz says I supported TARP, which gave $25 million to Goldman Sachs, the bank which loaned him the money he didn't disclose. Puppet!

— Donald J. Trump (@realDonaldTrump) January 23, 2016
Is Cruz honest? He is in bed w/ Wall St. & is funded by Goldman Sachs/Citi, low interest loans. No legal disclosure & never sold off assets.

— Donald J. Trump (@realDonaldTrump) January 23, 2016
Trump later branched out and included Hillary Clinton in those attacks. "I know the guys at Goldman Sachs," Trump said. "They have total, total control over him. Just like they have total control over Hillary Clinton."
[Image via Shutterstock]
—
>>Follow Alex Griswold (@HashtagGriswold) on Twitter
Have a tip we should know? tips@mediaite.com