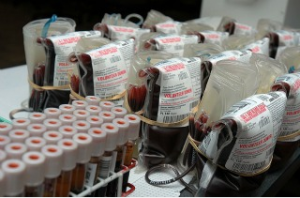 In October, a judge in Alabama came under fire for being caught on tape telling offenders in his court that if they couldn't pay their fines, they could either give blood or go to jail. State Circuit Judge Marvin Wiggins was slapped with an ethics complaint that has now resulted in his censure.
"For your consideration, there's a blood drive outside, and if you don't have any money and don't want to go to jail, as an option to pay it, you can give blood today," he was recorded saying. "Consider giving blood and bring your receipt back. Otherwise, the sheriff has enough handcuffs for those who do not have money."
The Southern Poverty Law Center brought a lawsuit against the judge and the blood bank Wiggins directed debtors to threw out the samples they obtained as a result of Wiggins' rogue judgment. Out of 47 donations received that day, 41 were discarded because it was unclear whether they were given without coercion, according to Vice President of Quality Jill Evans.
The Court of the Judiciary of Alabama censured him today for "violating the Canons of Judicial Ethics," according to The Montgomery Adviser. The censure is simply a public statement made to recognize that the judge acted improperly; Wiggins remains an active judge in the state.
"The Judicial Inquiry Commission is sending a clear message that the constitutional rights of the poor must be respected in Alabama courtrooms," said SPLC staff attorney Sarah Zampierin. "[N]o one's rights should be tied to their bank account. Today's hearing is an encouraging sign for anyone who believes in equal justice under the law."
[image via Wikimedia Commons]
For more from Lindsey, follow her on Twitter.
Have a tip we should know? tips@mediaite.com