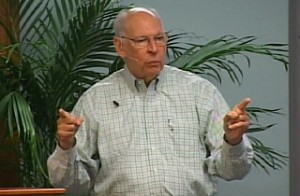 Rafael Cruz, father of Ted, went on the Sirius XM show Breitbart News Daily Thursday, where the Cuban-born evangelical preacher outlined his theory of an insidious secular humanist agenda baked into the foundation of U.S. public education — a plot that threatens to turn all of America's children into godless, hedonistic commies.
Cruz spins an imaginative alternate history, in which he identifies John Dewey as the Patient Zero of a virulent depravity known as secular humanism. Dewey, an atheist and (yes) a secular humanist, was also an influential reformer of American education in the early 20th century; Cruz labels him a member of the Communist party. In fact, as Right Wing Watch helpfully notes, Dewey was an "avowed anti-Communist" who advocated that "known Communists should not be permitted to teach children."
But never mind. This foul doctrine arrived at America's shores, infiltrated our classrooms — thanks to Dewey, with assists from the Bolsheviks and Teddy Roosevelt — and lured us into a moral relativism that has driven us further and further from our Judeo-Christian origins. And it manifests today in the nefarious educational initiative known as Common Core:
Common Core is not really about standards. That is just a facade. Common Core is about redefining education, redefining history, and attempting to brainwash kids with a secularist view of history, which denies the fundamental principles that have made America great.
The elder Cruz has a history of saying alarming things that fly in the face of reality. He has expressed his desire to see President Obama sent "back to Kenya," drawn a straight line from same-sex marriage to godlessness to socialism, and has said that "there is nothing scientific about evolution" — in fact, it's merely a propaganda tool used by Marxists.
[h/t Right Wing Watch]
Have a tip we should know? tips@mediaite.com