Alabama Justice Roy Moore Suspended Without Pay for Defying Gay Marriage Ruling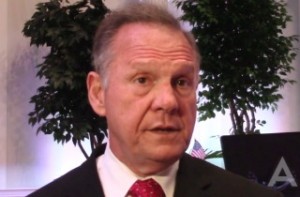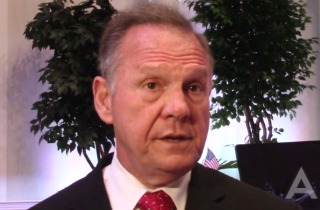 Chief Justice of the Alabama Supreme Court Roy Moore, a staunch opponent of marriage equality, has been suspended without pay for the remainder of his term for defying higher courts' rulings on the matter of same-sex marriage.
The Court of the Judiciary (COJ) found Moore guilty of all six charges of violating judicial ethics, which were filed earlier this year by the Southern Poverty Law Center.
The charges were filed in January after Moore ordered all Alabama probate judges to stop issuing licenses to same-sex couples. Moore's actions were in violation of the 2015 Supreme Court decision Obergefell vs. Hodges, which held that bans on same-sex marriage were unconstitutional.
Prior to the SCOTUS decision, Moore had already bucked a higher court's ruling when he instructed probate judges to ignore an Alabama federal court's ruling that the state's ban on same-sex marriage was unconstitutional.
When the Obergefell ruling came down in June 2015, Moore argued that Alabama probate judges were still not to issue marriage licenses to same-sex couples because the former case was still pending and the SCOTUS ruling caused "confusion and uncertainty."
At a press conference in April, Moore blamed the ethics complaint on "atheists, homosexuals, and transgender individuals."
Moore had previously argued that marriage equality is "going to destroy the nation," and likened the Obergefell decision to both Nazism and the Dred Scott decision.
SPLC President Richard Cohen applauded the decision Friday, saying in a statement, "The people of Alabama who cherish the rule of law are not going to miss the Ayatollah of Alabama."
Moore "disgraced his office and undermined the integrity of the judiciary by putting his personal religious beliefs above his sworn duty to uphold the U.S. Constitution," Cohen said.
Moore was represented by Mathew Staver, founder of the socially conservative legal organization Liberty Counsel.
Staver and Liberty Counsel previously represented Kentucky county clerk Kim Davis last year in her own court battle, in which she cited religious objection to gay marriage as an excuse not to perform her duties.
Moore is suspended from the bench for the remainder of his term, but not explicitly removed, as that would require a unanimous decision from the nine-person COJ, whereas a suspension only requires a 6-3 majority. Moore's term will end in 2019, and the governor will appoint his replacement.
Moore will be 72 when his term expires, too old to run for reelection. In a statement, Liberty Counsel noted that this suspension amounted to an effective permanent removal from the bench and complained that the decision was "an unbelievable violation of the law."
Staver called it a "miscarriage of justice" and affirmed his intention to appeal it to the Alabama Supreme Court — where Moore no longer sits.
Moore has been suspended from the bench before. In 2003, he defied a court order to remove a monument of the Ten Commandments from the grounds of the Alabama Judicial Building.
"Moore was elected to be a judge, not a preacher," Cohen said. "It's something that he never seemed to understand."
—
Sam Reisman (@thericeman) is a staff editor at Mediaite.
Have a tip we should know? tips@mediaite.com