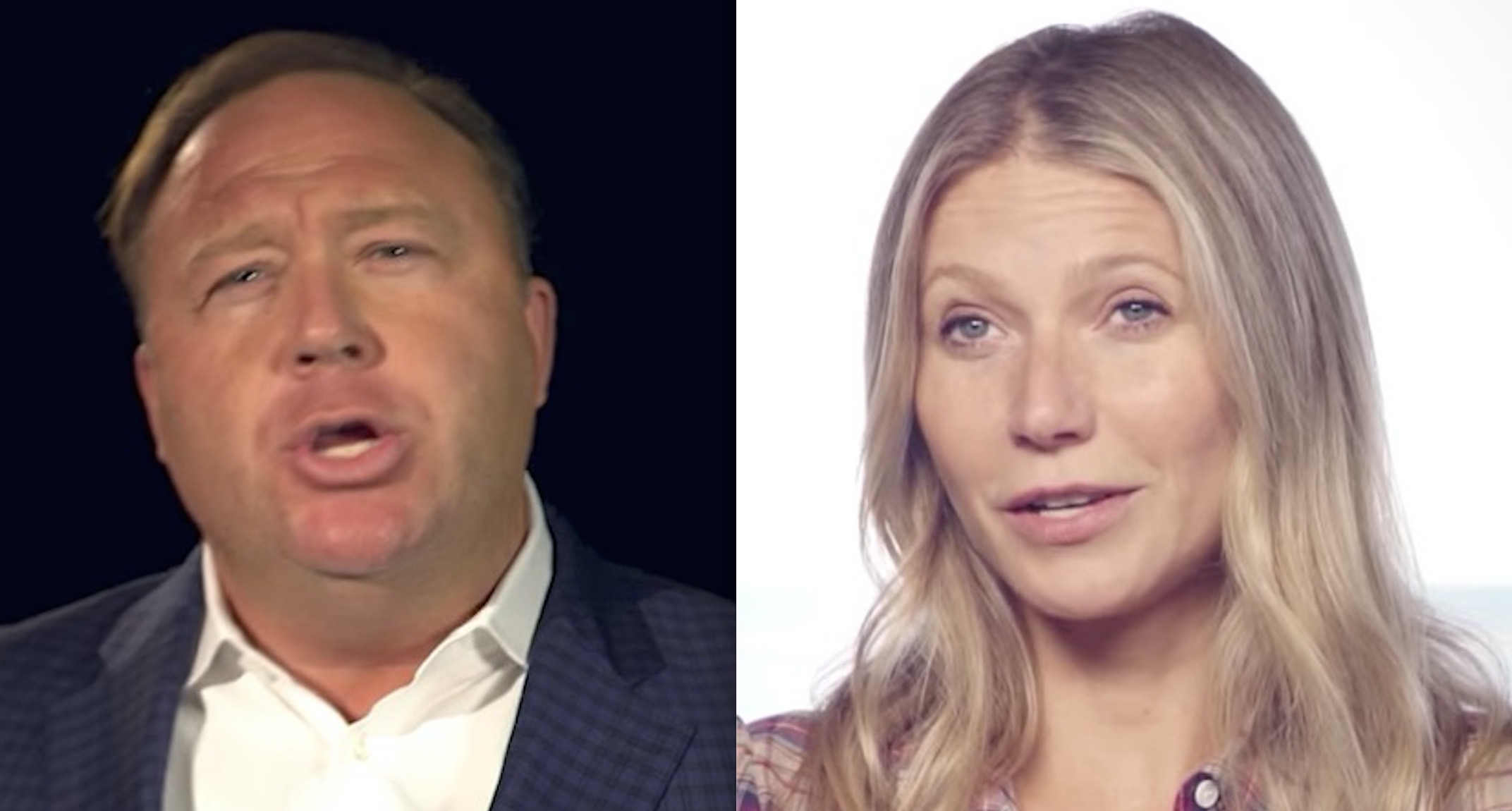 Shockingly, there's one thing that Gwyneth Paltrow's frequently mocked Goop health website and Alex Jones' absurdist Infowars blog have in common: they both hawk the same wellness products.
According to an extensive report valiantly undertaken by the good folks at Quartz, many of the wellness products available on the Infowars online shop, which sells male dietary supplements, are the same ones Paltrow's ritzy blog suggests to its readers.
Quartz made a compilation of the various products offered on both websites, comparing the different ways they are branded and marketed — they note that both "make similar claims about the health benefits of these ingredients, but what gets called 'Super Male Vitality' by Infowars is branded as 'Sex Dust' by Moon Juice" — a brand sold by Goop.
For instance, both websites sell a supplement called "Bacopa." On Infowars, that product is marketed as "Brain Force Plus," described as "the next generation of advanced neural activation." On Goop, it's "Why am I so effing tired," which helps replenish "the nutrients you may be lacking may improve energy levels and diminish stress."
Both websites also have products using "Reishi mushrooms" — on Goop, it's "Spirit Dust," described as "an uplifting blend of adaptogenic superherbs and supermushrooms that help [sic] combat the effects of stress to expand peaceful awareness and align you with bliss." On Infowars, it's "Wake Up America Immune Support Blend 100% Organic Coffee," a ground coffee that purportedly fights infections.
So, as it turns out, whether you're into "vaginal steaming," or think the children massacred at Sandy Hook were actors, there's a wellness product for you on both Goop and Infowars.
[image via screengrab]
—
Follow Aidan McLaughlin (@aidnmclaughlin) on Twitter
Have a tip we should know? tips@mediaite.com
Aidan McLaughlin - Editor in Chief