American Bar Association Holds Report on Trump's Legal Threats Over Concerns of Legal Threat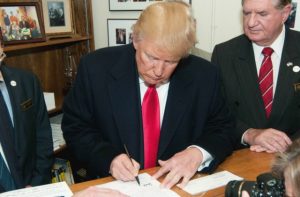 Donald Trump is notorious for threatening lawsuits against news organizations that run negative things about him (you may have heard about that recently), and the American Bar Association commissioned a report on it that ended up calling Trump a "libel bully."
According to The New York Times, the ABA decided against releasing the report. Why? Because of "the risk of the A.B.A. being sued by Mr. Trump."
No, seriously:
James Dimos, the association's deputy executive director, objected to the term "libel bully" and other sharp language in the report, saying in an Oct. 19 email that the changes were needed to address "the legitimately held views of A.B.A. staff who are charged with managing the reputational and financial risk to the association."

"While we do not believe that such a lawsuit has merit, it is certainly reasonable to attempt to reduce such a likelihood by removing inflammatory language that is unnecessary to further the article's thesis," Mr. Dimos wrote. "Honestly, it is the same advice members of the forum would provide to their own clients."
There were apparently some "minor edits" people in the ABA wanted made before publication.
However, the Media Law Resource Center––which actually wrote the report––has posted it online here. Just to give you some idea of the tone, here's how it opens:
Donald J. Trump is a libel bully. Like most bullies, he's also a loser, to borrow from Trump's vocabulary.

Trump and his companies have been involved in a mind-boggling 4,000 lawsuits over the last 30 years and sent countless threatening cease-and-desist letters to journalists and critics.

But the GOP presidential nominee and his companies have never won a single speech-related case filed in a public court.
They provide specific examples, including that infamous lawsuit he filed against Bill Maher. For those who don't know, Maher made a joke offer that he would donate money to a charity of Trump's choice if he produced his birth certificate to prove his father was not an orange-haired orangutan.
Trump apparently decided this joke was legally binding and filed a lawsuit. Here's part of what the report says about that:
Trump has zero sense of humor. But, boy, can he file a hilarious lawsuit! He proved that much when he sued HBO Real Time cable television show host Maher for not making good on Maher's joke that Maher would donate $5 million to charity if the orange-haired and orange-tinged Trump could provide a birth certificate showing that Trump was not the "spawn of his mother having sex with an orangutan"…

Shortly after filing his frivolous lawsuit against Maher, Trump quickly withdrew it, and his lawyer said he would refile an amended complaint. He never did.
[image via Andrew Cline/Shutterstock]
— —
Follow Josh Feldman on Twitter: @feldmaniac
Have a tip we should know? tips@mediaite.com
Josh Feldman - Senior Editor