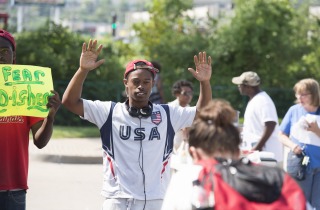 Amnesty International is out with a new report condemning the actions of Ferguson, Mo., police officers and government officials throughout the protests over the death of unarmed 18-year-old black man Michael Brown.
The report claims law enforcement officials committed numerous human rights abuses and "racially discriminatory treatment," and called into serious question the actions of Ferguson Police Officer Darren Wilson, who shot and killed Brown. The fact that Brown was unarmed means he was "unlikely to have presented a serious threat to the life of the police officer" who killed him, the report said.
The goal of law enforcement should be to save lives, the report said, so the use of lethal force should not be used against "a fleeing thief who poses no immediate danger … even if it means that the thief will escape."
The report also validated claims of unnecessary police militarization, condemning the use of "armored vehicles which are more commonly seen in a conflict zone rather than the streets of a suburban town in the United States. In addition, Missouri Gov. Jay Nixon's decision to call up the National Guard "only served to elevate these tensions further," the report said.
In the past week alone, the results of Brown's autopsy were released, Missouri Gov. Jay Nixon announced a "Ferguson Commission" to investigate the unrest that occurred after the shooting, and the first public account of Officer Darren Wilson, who shot and killed Brown, on the night in question was released.
[Image via Shutterstock.com]
— —
>>Follow Andrew Desiderio (@forza_desiderio) on Twitter
[Note: Mediaite intern Andrew Desiderio is a student at The George Washington University.]
Have a tip we should know? tips@mediaite.com