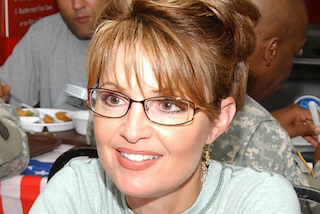 After subtly alluding to the alleged drunken brawl her family was involved in last month on her Facebook page, Sarah Palin has decided to take the issue head-on, in a new Facebook post.
Following her daughter Bristol Palin's decision to share her side of the bizarre story, Sarah Palin took the opportunity to denounce the way CNN's Carol Costello reported on it — later apologizing — and share some details of her own.
"What happened on the night in question wasn't funny. It was humiliating and frightening," Palin wrote. "The broken ribs, black eyes, and messed up elbows and knees suffered by people in our party that night were no laughing matter. Neither were Bristol's bruises on her arms and leg from being dragged by a man. My kids aren't proud of what happened, nor are they seeking sympathy by playing the victim card – that's why they haven't commented on this for all these weeks."
Palin also echoed comments seen across conservative media sphere over the last few days, highlighting the "bitter irony" of the humorous mainstream media reaction to her daughter's suffering amidst concern over a broader "war on women."
"I'd like to say shame on the media and those on the left laughing at her or at any young woman in a similar situation, but I no longer think they have any shame," Palin declared.
Finally, Palin also alluded to the comments former MSNBC host Martin Bashir made about her a year ago that ultimately led to his firing. She chided Costello for apologizing to a reporter at POLITICO instead of to her directly. "Perhaps Carol Costello should phone Martin Bashir. He knows how to reach us," Palin added.
Read the full post below, via Facebook:
[Photo via Wikimedia Commons]
— —
>> Follow Matt Wilstein (@TheMattWilstein) on Twitter
Have a tip we should know? tips@mediaite.com